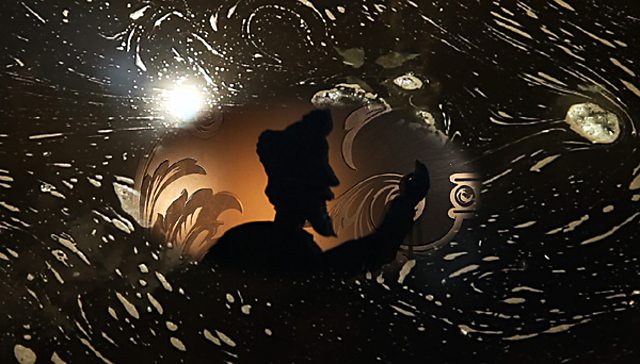 Dickens described London as a "Magic Lantern spectacle".
Everyone knows the line about how speech radio wins out over some other mediums ("because the pictures are better") and although putting pictures together to complement a radio programme sounds quite straightforward, getting it right can be a tricky business. It's a bit like cooking - too much emphasis on the pictures and the sound feels flat, not enough and they feel like a distraction.
Back in 2008 BBC Radio Drama and Film London got together to work on The City Speaks - two afternoon dramas for Radio 4, comprising six fifteen-minute plays, each of which also functioned as the soundtrack to a film.
Six writers, six film-makers, and six radio drama directors - the result was a wonderful mix of stories and films about London. And as we thought about where to go next with this very particular approach, we all agreed that we couldn't do better than to celebrate the master storyteller of the capital, Charles Dickens.
Writer Michael Eaton - who is steeped in Dickens's work - decided to tell the story of the novelist's life through his essays on walking the streets of London. So we start with Dickens as a boy, getting lost on his very first visit to the city, and we finish with Dickens walking away from his final public reading at St James's Hall, Piccadilly. We recorded the radio dramas early in 2011, and put them together with Neil Brand's music before film-maker Chris Newby started work in earnest. Chris chose a slightly different approach to each of the five films.
He did some location filming - notably at Crossness pumping station and Abney Park cemetery - but he also worked with puppeteers, used archive film footage, and animated an extraordinary range of material - including some flotsam and jetsam from the Thames.
There is definitely a difference between listening to the dramas on their own or listening while watching Chris's films. The films bring another dimension to the stories and the characters. At times they comment on the plays (which can be fun) but they are wholly consistent with Michael Eaton's approach to Dickens, and to Dickens's own writing.
You can watch the Dickens in London films on the Red Button on television between the 6 and 11 Feb (Turn your digital television to BBC One or BBC Two, press the Red button on your remote control and select "Dickens in London"). Or you can watch the films on the Radio 4 website.
Jeremy Mortimer is executive producer, BBC Radio Drama