In Our Time: The Trojan War
Editor's note: In Thursday's programme Melvyn Bragg and his guests discussed The Trojan War. As always the programme is available to listen to online or to download and keep - GS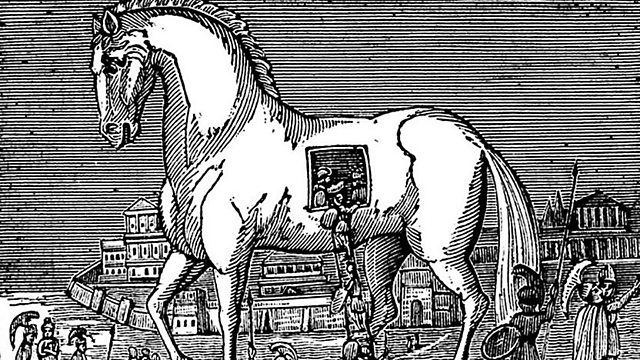 Hello
I am in such awe of scholars that when they pronounce and I think that I have an alternative, nay, contradictory opinion, I clam up. And such it was this morning, ladies and gentlemen, when Susan Sherratt said that I was wrong to say that Aeneas was half man, half god. Edith Hall (after the programme!) said that I was right. His mother was Aphrodite. This tiny patch of knowledge on the subject is only because I "did" the Aeneid for A-level!
Otherwise, it was again an example of a programme that was both full of scholarship and questioning scholarship. In that way, similar to the Marco Polo programme.
And so out into London. The West End is en fete. Regent Street, Bond Street, Jermyn Street, all sorts of streets in the West End are flying the flag. Hundreds of flags. Big Union Flags. Arrayed in, as it were, columns, they're rather like the guards marching in full step, with the red stripe down the outside leg and the drums beating the time. The Union Flag en masse becomes impressive. Shops, coyly or boldly, express their loyalty and affection to HM The Queen, and again it is always centred around the Union Flag, save in the Burlington Arcade where we have paper coronets (but are they merely paper in the Burlington Arcade?). Apart from most of the centre of London being shut off for the Great Day(s), there is a pleasant murmur on the streets.
Of course, this early flash of summer is a help. It brings out the smiles and the feeling of being rather blessed, which we English always have when we get good weather. But snatches of conversations tell you that in this village they are resurrecting the notion of boundary stones. In this street they are having a party which will go on until midnight. In this other place they are doing nothing but rather embarrassed about it, and perhaps if they get a move on they can do something.
It is tempting to think that the general geniality and affection which is being displayed for The Queen is not only for herself and her sixty faultless years, but also to emphasise how much a deeply trusted person doing a job well and, indeed, to the highest possible standards, contrasts with the witterings of Westminster.
That is a cross-party remark.
And so to wandering around the town to have lunch with a pal and back to the offices, which we still boast of as being the smallest offices in Soho, and we are suffering for that with the intense humidity. But never mind, it's London, it's 2012, we have a special bank holiday, The Queen has been on the throne for sixty years. I'm leaving the office in an hour or so to go to another meeting at seven o'clock. I'll be walking through Green Park and St James's Park to get there and having a deep conversation with the ducks, half expecting the pelicans to be painted in stripes of blue and red to go with their white.
Best wishes
Melvyn Bragg
PS: (Sorry Ingrid!) In St James's Park, looked across to Buckingham Palace. It had disappeared. What faced me was a monstrous meccano of scaffolding, quite fantastical. Might be worthwhile keeping it up for a few months.
Download this episode to keep from the In Our Time podcast page
Visit the In Our Time website