Desert Island Discs: Aung San Suu Kyi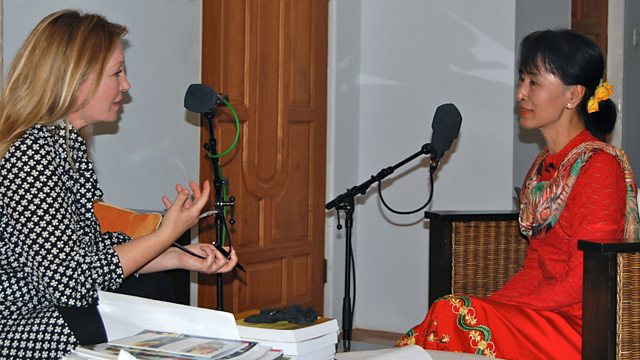 At Aung San Suu Kyi's home in Naypyitaw, Burma

When I saw Aung San Suu Kyi and Desert Island Discs being talked about on Twitter, I couldn't work out what was going on. Astonishingly, Aung San Suu Kyi had begun her Nobel Peace prize acceptance speech with this sentence (full text)
"Long years ago, sometimes it seems many lives ago, I was at Oxford listening to the radio programme Desert Island Discs with my young son Alexander. It was a well-known programme (for all I know it still continues) ..."
Happily Radio 4 isn't a place which lets such an opportunity slip out of its grasp and Gwyneth Williams, (Controller Radio 4) immediately wrote a personal invitation to Aung San Suu Kyi which was hand delivered by Fergal Keane during Daw Suu's emotional visit to the UK.  A few months later Gwyn appeared in our office to pass on the amazing news that Aung San Suu Kyi had agreed - in principle - to appear on the programme. I embarrassed myself by actually jumping up and down on the spot. 
As a figure of world renown, Aung San Suu Kyi is spoken of along with Gandhi and Mandela and from the start I was certain that we should interview her in her home in Rangoon where she'd been so isolated but was now free. However as Burma is only just opening up to visitors I knew the whole production would be difficult to pull off. A key figure was my colleague Nick Springate, a Senior World Affairs Producer with BBC News, whose long experience of working in Burma meant he has unrivalled knowledge and contacts and was a brilliant 'fixer'. 
We did get our visas and a date for the interview only to be bumped by President Obama - who was to visit Daw Suu in Rangoon (and was clearly enraptured by her). Luckily we got another date.  1630 on Tuesday December 18th at her home in Rangoon.  Kirsty and I set about preparing (research, risk assessments, jabs, cancelling pre-Christmas plans).  5 days before we were due to travel, Nick rang to say Daw Suu would be in Naypyitaw, Burma's administrative capital city, rather than Rangoon.  My heart sank as we'd all been keenly anticipating experiencing being inside her famous home.  But of greater concern was the complete absence of any musical choices.  I felt the whole enterprise was hanging by the slimmest of threads.  Then on the Friday morning Nick rang sounding really cheerful.  He had her music choices!  I suddenly felt more able to breathe. 
When Bob, Kirsty and I met up for a pre-flight drink none of us could really believe what we were about to do:  we were all conscious that we were about to fly into Burma on official visas in a way that had on many occasions been denied Aung San Suu Kyi's husband and children.  To add to the sense of unreality, the next day, as we - bleary eyed - were checking in for the connecting flight to Naypyitaw, Bob said, "eyes right" and a frisson of excitement swept across the room as Aung San Suu Kyi herself arrived to board our flight. Incredibly I found myself sitting right behind her and could admire the beautiful yellow roses she was wearing in her hair at very close quarters.  By this stage Kirsty and I had descended into silence.
Naypyitaw is a strange place.  Not only was the shiny new airport empty, but so too was the eight-lane highway to our not-quite-finished hotel.  En route it occurred to me that the road was in some ways a metaphor for Burma (Myanmar) today - to the left huge, concrete buildings which will become international hotels, to the right women in straw hats were sweeping the road and the fields were being tended in a way that will have remained unchanging for centuries.
After reviewing and refining the programme structure, questions and music, Kirsty and I had a brief bite to eat and a 15 minute power nap before heading off with Nick and Bob to Daw Suu's house.  Unlike her home in Rangoon, it's an anonymous house on what feels like a new housing estate still in the process of being built.
She was running late but that she'd phoned ahead and asked for us to wait inside.  Bob rigged the mics, Kirsty ran through her introduction and I had a quick look around the room, noting that two portraits of her father, General Aung San, a hero of the Burmese independence movement in the forties who was assassinated when his daughter was just two, hung on the walls.
And then there she was - resplendent in a beautifully embroidered coral outfit.  As we'd experienced at the airport, you sense her presence even before you see her, such is the aura around her.  She is beautiful - very composed, with frighteningly good posture - she sat still and erect throughout the 80 minutes we had with her - and has a very direct gaze.  We knew she was a very private person, capable of intense steeliness and were expecting her to be formidable but people who knew her privately also reported that she had a playful side too.  We were hopeful that the brilliant format of Desert Island Discs would perhaps allow her to show more of her personality than is usually possible in straightforward political interviews.
We had been told we'd have no more than an hour with her so had planned to play a minimal amount of the music as we recorded. In the event, Daw Suu was listening with such attention, and was so obviously moved by what she heard, that we let the music run.  The time flew by:  re-reading the notes I took at the time is one word that stands out - I'd written "surreal" in capital letters.
As soon as we'd finished, we took a few photos and then she was gone, leaving us with huge relief that after all the planning, travelling, preparing and worrying, we had actually recorded a programme.  As we left for the inevitable celebratory refreshment, we were all struck by how much thought she'd given to the interview and impressed by her humility, charmed by her sense of humour.  We felt privileged to have met her and we are just so grateful to Aung San Suu Kyi for giving us her time and sharing her story with us so generously.
A correction has been made to this blog post since it was originally published. 
Related Links: 
Desert Island Discs - Aung San Suu Kyi
Desert Island Discs - Homepage
Kirsty Young's preview interview in the Radio Times
Politicians and Nobel laureates in the DID archive:
Rt Hon Margaret Thatcher - UK's first woman Prime Minister
Rt Hon Baroness Boothroyd - first woman Speaker of the House of Commons
Wangari Maathai - first African woman to win the Nobel Peace Prize
Rt Hon Mo Mowlam - former Northern Ireland Secretary