Roger Bolton interviews Mark Damazer for Feedback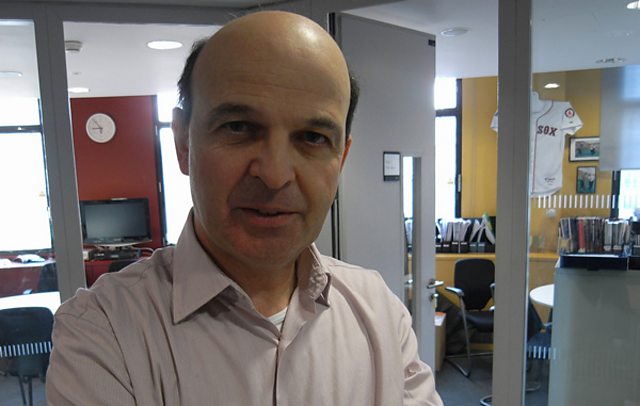 Mark Damazer, the Controller of Radio 4, does not hide his love for the new-found land across the ocean. His office on the fourth floor of BBC Broadcasting House is full of Americana, including a large framed Boston Red Sox shirt, and when I interviewed him for the latest edition of Feedback I thought I saw a portrait of George Washington in the corner.
I suppose it could have been a picture of Harry Redknapp, the manager of Tottenham Hotspur, the Red Sox's only rival in the sporting affections of the outgoing Controller, who is to become Head of St Peter's College Oxford in the Autumn, but Mr Rednapp, unlike the first President of the United States, does not have wooden teeth, or slaves for that matter.
Among the dreaming spires, in the Georgian elegance of the Head's Lodging, Mr Damazer will no doubt reflect on his six years in what he called "the best job in broadcasting by a 100 miles". How proud a record does he have? Most listeners seem to think he has done a pretty good job, certainly audiences are high, and there have been a large number of critical successes.
But some listeners wish he had been more restrained in his commissioning of all things American, some feel he overdosed on history in general, and others mourn the cutbacks in drama and the death of the Friday Play, attributable in part, they believe, to budget cuts. Then there is another termination for which he is undoubtedly responsible, that of the much loved UK theme.
On Thursday I talked to him about these concerns, and about the recent breakdowns in transmission, and the playing of the wrong recordings among other unfortunate presentation errors. I also asked him whether he and other radio bosses and their producers take seriously what their listeners think, as apologies by BBC representatives on Feedback are pretty rare.
Before we began he was keen to point out that he was far from being a lame duck Controller, that his successor will not be appointed for some weeks, and that he had a lot of major decisions still to take. He also agreed to come on the next series of Feedback to talk about some of his favourite Radio 4 programmes. Then he started to deal with his listeners' concerns.
By the way can I just add about the outgoing Controller that he has been a staunch supporter of Feedback, and has always been prepared to come and face the music. I hope his successor feels the same way.
Roger Bolton presents Feedback on BBC Radio 4