In Our Time: Absolute Zero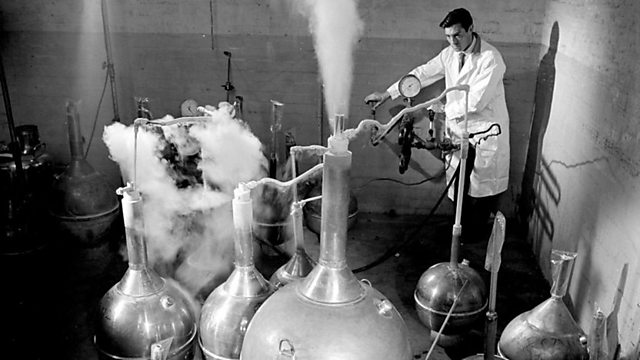 Absolute Zero
I'm sorry that we didn't have enough time to talk about the rabbit that came out of the hat in the last half minute: the creation of temperatures lower than absolute zero. I'm sure that acutely informed listeners will understand Nicola's accurate and elliptical explanation, but it was one of those cases where I kept it back and kept it back for a bit too long.
It's a very odd world, isn't it, the world of serious, advanced, abstract science. There's a deep under-the-ocean feeling about it, an uttermost edge of the known world feeling. I must say, I was - I know I've said this so often before - bowled over by the contributions of Nicola and Stephen particularly, because it was their first time on the programme. Simon is a rock, as well as being the sort of rock you tap and out pours pure knowledge.
I was up in the Lake District last weekend for the opening few days of the Words by the Water Literary Festival. Keswick was made for a literary festival. The theatre which houses it stands at the foot of what Wordsworth called the jewel of the Lakes - Derwentwater, on which there is an island, on which once lived a saint called Herbert who asked God to let him die at the same time as St Cuthbert. His prayer was granted.
Listening to the effortless erudition and wit of Michael Frayn, the passionate knowledge of Dickens by Claire Tomalin, and that was just the beginning of a fortnight which will include the Poet Laureate, Jack Straw, Chris Mullin, Ruth Rendell ... These literary festivals are a marvel. Simon Hoggart was there. He keeps threatening to write a book about literary festivals and I ventured the Wigton literary festival, which must be the smallest in the world as we had one event last year and we will have one event this year.
Then back to London and into work on Absolute Zero, and I'm putting together the South Bank Show Awards which is a mighty task, getting together about sixty or seventy artists who are nominated for the awards, as well as those who want to come and enjoy presentations on every category, from opera through popular music, to painting, to television comedy and so on, along the spectrum of the current British arts scene which is, despite cuts, still thriving. 
Grabbed a morning off to have a walk on Hampstead Heath with one of my daughters who'd just come back from America. The beginnings of budding on the trees – how do they know? – and a lunch with one of my oldest friends at a restaurant in the West End, in the most magnificent dining room in all London with, miraculously, the lowest prices.
And pounding through London. It's now become a landscape on its own, with newspaper vendors recognised and the probably eternal contrast between beggars in the street and grandees sweeping through the streets. Sometimes I wonder how the whole thing keeps together, don't you?
The pal I had lunch with brought me a copy of Charles Dickens' Night Walks. He had a period of intense insomnia and the only way to cure it, he discovered, was to go to bed, lie in bed for a few minutes, get up instantly and walk for five or six hours through the night through London. Exhilarating stuff. You keep wondering why he wasn't attacked, or murdered, or assailed, or assaulted. Perhaps we exaggerate the violence of the London of that time.
Download this episode to keep from the In Our Time podcast page
Visit the In Our Time website
Follow Radio 4 on Twitter and Facebook