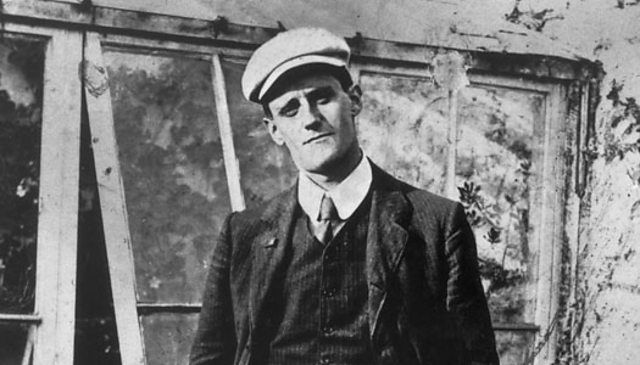 James Joyce - author of 'one of the least read novels of the century, as one of the filthiest novels ever written and as one of the cleverest.'
Now this is a challenge! James Joyce's Ulysses has an awesome reputation - as one of the greatest novels of the twentieth century, as one of the least read novels of the century, as one of the filthiest novels ever written and as one of the cleverest. It is all of these, and more, but let's get something straight - for all its wit, bravura and its tricksiness, it is also one of the funniest most entertaining books to come out of Ireland, and is one of the most tender accounts of everyday life ever written. It is a completely engrossing portrait of the life of a great city over one day - Dublin on June 16th 1904, now known as Bloomsday after the workaday hero of the novel. Which is reason enough for Radio 4 to break its schedule and broadcast it across one day on June 16th.
We are in safe hands I think - Melvyn Bragg will set the book in its context in In Our Time a couple of days before, Mark Lawson, live from Dublin, will guide us through the novel as it is being broadcast, and the dramatisation - co produced by Jeremy Mortimer, fresh from his Sony triumph with A Tale of Two Cities, and Jonquil Panting, written by Robin Brooks who dazzled us with his version of I, Claudius a few years back, and starring Henry Goodman, Andrew Scott, Niamh Cusack, Stephen Rea and a stellar Irish cast - promises to be wonderful.
But it is pretty earthy too: it has one of the best toilet scenes in world literature, and enough sexual content for it to be seen as a work of pornography when it was first published. And Radio 4 is doing it all. To do Ulysses without the sex would to be unfaithful to one of the most beautiful books in the English language, and we think our audience would not thank us for censoring a masterpiece. Or as my boss, the Controller, Gwyneth Williams, says, luckily for us James Joyce was writing with the Radio 4 schedule in mind - although we have no watershed on Radio 4, all the sex scenes come late at night.
You have been warned - but it promises to be a real treat and great days listening, and if you cannot catch it all on air, it will be there to listen again and download for a fortnight after transmission. Please enjoy!
Editor note: James Joyce's Ulysses will be broadcast in seven parts on Saturday 16 June. The dramas will be available to download. Clips, videos, character profiles and a series of blog posts wil be available on the Radio 4 website.
Listen to clips, meet the characters, sign up for the downloads and find out more about this landmark dramatisation on the Ulysses site.