Martha Littlehailes, Senior Studio Manager in the London Radio Drama team, explains how her team created the sound of 1880s Arizona mining country for the production of Elmore Leonard's Hombre.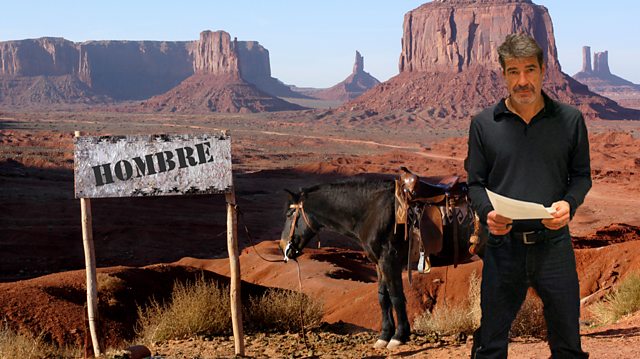 Hombre
With Hombre we wanted to create an utterly convincing sound world. We needed a gritty small town, a desert, and a showdown in a canyon. It had to be unrelentingly hot, dry and punishing to make Elmore Leonard's story compelling.
Now, obviously, it would be ideal to go out somewhere hot and dry with actors and kit. Given the weather lately, I fancied Nevada or perhaps Morocco… Sadly, the reality is that we have to do it all in one big windowless room in BBC Broadcasting House in just two days. Luckily, our Drama studio is actually pretty wonderful.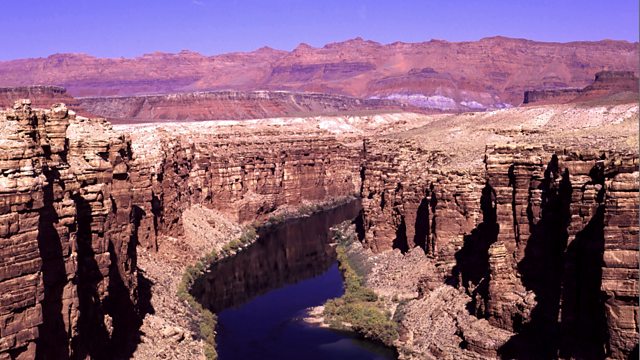 Arizona Canyon
Our first mission was to build our small town in 1880s Arizona. We needed all the rooms to be made from wood. To get that rough-hewn feel to the place I put carpet down on the existing wooden floor then laid shallow wooden podiums on that. They are only two inches high but gave that fantastic sound of boots on a hollow wooden floor. We wanted our cowboys to sound like they meant business. Listen to the feet in the stagecoach ticket office, gorgeous!
Once the action of the story moves into the desert we have the real challenge. Distance. How do you make somewhere sound like a huge empty space when we're stuck in a room? I laid carpet across our Exterior space in the studio so we heard as little as possible of the room acoustic and on top of it went sheets with gravel for feet to scuff across.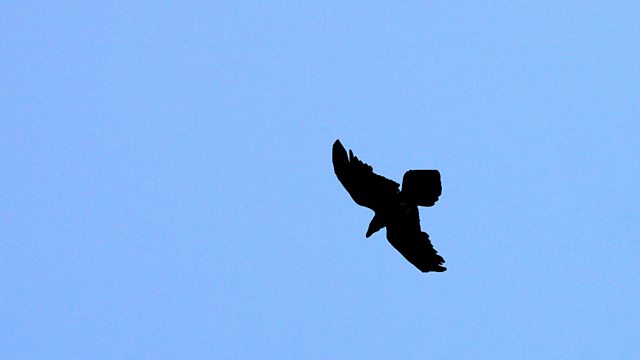 For our exterior backgrounds, we mixed air, hot wind, crickets and the occasional bird from our sound effects library. When you are listening you want to hear the distance - air and wind help but adding in a very distant sound, such as a buzzard screeching, fools the ears into thinking the space is much bigger and wider.
We made sure that the sound effects of guns were as specific as possible. For example, the gunshots from villain Frank Braden's gun are not the same as those from his companion Early, or hero Russell. Also, we had to make sure the perspective of near gunshots contrasted with ones far off at the mine shaft.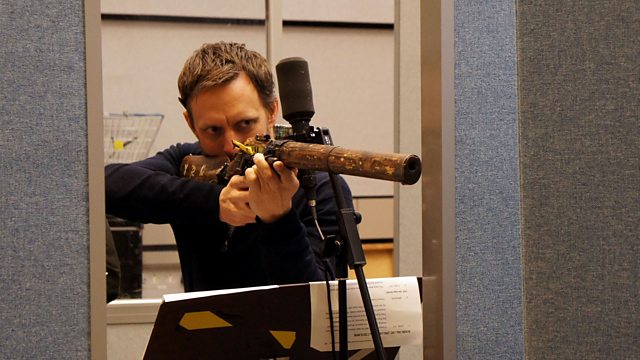 Trevor shooting in studio
The echo in the canyon is created when the voices of the actors is picked up by a more distant space microphone which is sent to a delay program, delayed some more and bounced back in the sound booth. Remember, the actors hear none of this, they have to pitch up, shout across the "canyon" and trust that their voices are echoing round the walls of a canyon they cannot see. Radio acting is Green Screen Supreme.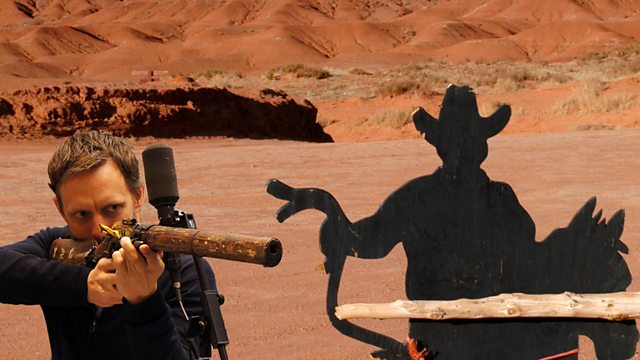 Hombre - shoot
I loved working on Hombre, my fellow studio managers were terrific, and our colleague Colin Guthrie did a superb job on the post-production. I hope you enjoy it.
Listen to Hombre by Elmore Leonard - adapted by Robert Ferguson and produced by Sasha Yevtushenko.