The House I Grew Up In: New series and podcast
If you're not familiar with The House I Grew Up In, it's a series in which I get to visit the childhood homes and neighbourhoods of influential Britons, uncovering the experiences which shaped their lives.
This year, for example, in the first programme of the new series, Baroness Shirley Williams recalls an epic, international childhood with her famous mother - the writer and feminist Vera Brittain.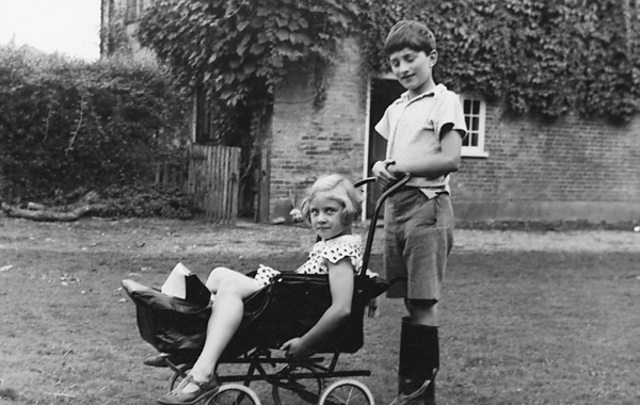 Shirley Williams and her brother, John
Baroness Williams explained to me how the family had a housekeeper, Amy Burnett, who she described as a second mother. Amy was a bright girl who got into grammar school but couldn't take up the place as her parents couldn't afford the school uniform. Instead, she went to work in service for Shirley's mother.
So strongly did the young Shirley Williams empathise with Amy Burnett that she insisted her parents take her out of her private school as a young child and send her instead to the local state school, where Amy's friends' children went. She was immediately aware of the differences not just in class sizes and teachers but in lifestyles and aspirations.
It's not difficult to trace the forces that shaped Shirley Williams the politician - famous supporter of comprehensive education, and tireless campaigner against social injustice.
It's always fascinating to me to make connections between childhood experiences and the type of writer, politician, scientist, academic, people later become.
Ahead of the news series, Radio 4 has published a new podcast of The House I Grew Up In, featuring highlights of the past four series. This includes my encounter with the actor and playwright, Kwame Kwei-Amah. It was quite something to stand in the room in his west London childhood home where Kwame changed his name, at the age of 12, from Ian Roberts, to Kwame Kwei-Amah, after watching an episode of the television programme Roots.
Former Tory MP, Jonathan Aitken, took me back to a hospital in Dublin, where he spent three years at the age of four strapped to a bed, immobile, with tuberculosis.
He told me how he drew upon this experience when - many years later - he was sent to prison for perjury.
This year I listened in disbelief outside another house, as one of this year's guests, the campaigner against forced marriage, Jasvinder Sanghera, described to me how, at the age of 15, she was locked in her bedroom in Derby by her parents, when she refused to marry a much older man from India.
What we experience as a child shapes and forms so much of what we become, and The House I Grew Up reinforces how memories of these early years can nourish and sustain us - even in the most extreme circumstances.
Wendy Robbins is the presenter of The House I Grew Up In
Wendy Robbins meets Baroness Shirley Williams for the first programme in the new series of The House I Grew Up In on BBC Radio 4 at 9.00am on Thursday, 4 August 2011.
Listen to or download the podcast on the Radio 4 podcast pages.