Editor's Note: Saturday Live is Radio 4's Saturday morning magazine show featuring extraordinary stories and remarkable people. You can listen to the show here. In this blog post presenter Sian Williams looks ahead to this week's show - CM
A visit to the island of Skomer off Pembrokeshire last year, prompted of one of my six year old son's better jokes. "What do you call a bird that's constantly out of breath? A puffin."
The remote and rugged island off the coast of West Wales has thousands and thousands of them, together with razorbills, guillemots and Manx shearwaters. We went out on a tiny boat, lashed by winter waves, as birds screeched, hovered and swooped around us.
It was fascinating and quite dramatically cold, so we were glad to be heading home after a few hours, to warm up in front of a fire. We have a couple of guests on Saturday Live this weekend who are made of much stronger stuff. They are planning to live on Skomer's wilder sister island, Skokholm, for ten months, with no running water and not much electricity.
The island is a mile in length and only half a mile at its widest point. I'm sure most of us would be screeching and swooping ourselves after a couple of days, but they are passionately excited about it. We'll ask them why.
Also on the programme, a woman of firsts. Baroness Scotland was the first black woman to be made a QC and the first and only woman to be appointed Attorney General. All that, after her school careers teacher reportedly told her to become a supervisor at her local supermarket. She's our studio guest.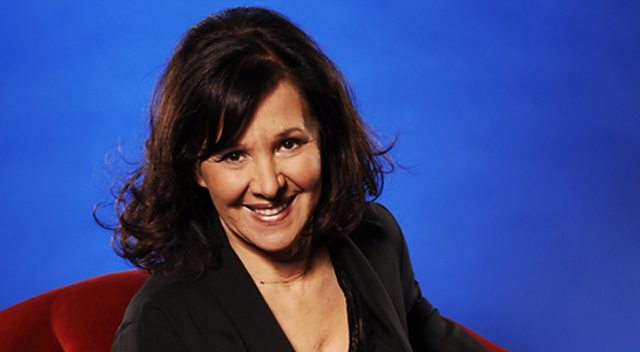 Arlene Philips is a guest on this week's Saturday Live
We are taking a day trip with Arlene Philips to her old dance school, John McCarthy's visiting Stratford-upon-Avon to find the bits that aren't touched by the Bard and the former artistic director of the Royal Shakespeare Company, Trevor Nunn, shares his Inheritance Tracks.
I hope you can join me and Richard for music, dance, drama and maybe a screech or two from a Skokholm Storm petrel.
Saturday Live, nine o'clock until ten thirty, on BBC Radio 4.
Sian Williams presents Saturday Live on Radio 4.
Visit the Saturday Live webpage and listen to the latest episode