Daleks on the 7th Dimension: The voice meets the philosopher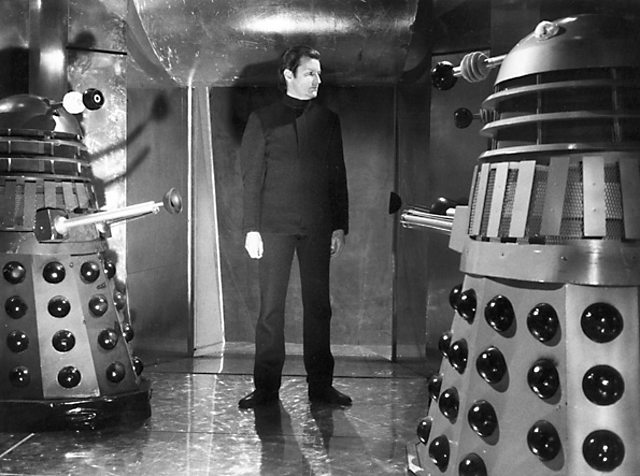 The 7th Dimension, featuring sci-fi, fantasy and horror programmes was always one of the most popular zones on Radio 7, and continues to be on Radio 4 Extra.
With the strand broadcasting one hour every day and repeated at midnight, it is quite a challenge to track down enough archive material to include in this slot.
The Doctor Who dramatisations are an excellent addition, and I'm pleased that we have acquired some 'new to the network' Doctor Who dramas, featuring Peter Davison as The Time Lord.
From feedback, Peter's debut on Radio 4 Extra is clearly being enjoyed.
Presenter of the 7th Dimension Nick Briggs is, as some of you may be aware, the voice of the Daleks and other sundry Whovian monsters.
This week one of the Radio 4 Extra studio guests is Dr Robin Bunce who has contributed to a recently published book, 'Doctor Who and Philosophy'. Dr Bunce is Director of Studies for Politics at Homerton College, Cambridge, and his chapter in the book is called 'The Evil of the Daleks'. This seemed an appropriate opportunity for the voice of the Daleks to meet and interview an academic who is obsessed by them.
I was just hoping that Nick would go easy on Dr Bunce and not attempt to exterminate him!
The interview turned out to be absolutely fascinating and you can hear it serialised in the 7th Dimension starting tonight at 6.30 pm and repeated at midnight.
Mary Kalemkerian is Head of Programmes at BBC Radio 4 Extra
Picture caption reads: "Dr Who: The Day Of The Daleks (3K) 22/10/1971 ©BBC Picture shows Aubrey Woods as the Controller with Daleks.