In Our Time newsletter: Heraclitus
Editor's note: In last week's programme Melvyn Bragg and his guests discussed Heraclitus. As always the programme is available to listen to online or to download and keep - PM.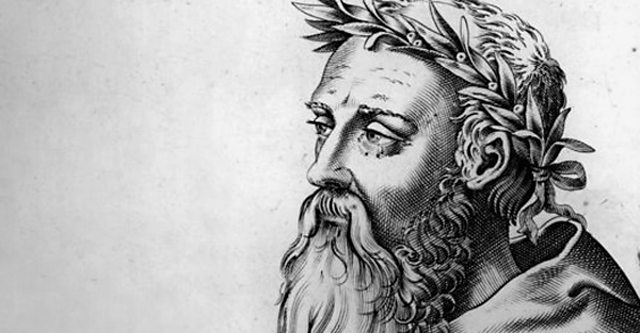 Hello
After the programme Angie Hobbs told us the saying that she most liked: "Mortals are immortal, immortals mortal, living their death, dying their life". Then we talked about drink. "A dry soul is wisest and best", says Heraclitus.
Plato, however, encouraged all older people to drink, even to get drunk, in order the better to enjoy themselves, particularly to dance. And young people, he thought, should drink to test their manhood. Galen said that the soul must be part of the body, because when you are drunk it changes your state of mind and body.
We then tried to work out a word for what this library of In Our Times could be called. It's a sort of encyclopedia. Peter Adamson suggested "audiopedia"; James Warren suggested "acoustopedia". Neither sounds quite right. By the way, there's a DVD of Heraclitus being read in Greek.
In the storms from Europe and the storms from what used to be called the heavens, there were still a few moments. I was in St James's Park the other day and saw a tall, angular, young woman. Near her was a chap, smiling away. She put her weight on her left leg and bent her right leg, and chucked as you do when you want a horse to come to you. A squirrel appeared, ran across to her, paused at her foot, ran up to her knee as she held a breadcrumb between her index finger and thumb, and then from her knee to her thigh, and then up to her shoulder, looked in her face and she popped the breadcrumb in its mouth, and down the squirrel went and back across the path.
She nodded. Her chap smiled. She chucked again.
And another squirrel did the same thing. The chap had a wonderful beam of happiness on his face and so had I. It was a trick she had. It turned out that she and her chap were Estonians, studying here. A bit of circus in St James's Park.
On Hampstead Heath were the birdwatchers beside the special bird pond. Binoculars, beards and haversacks - never can people be more innocently employed. But I wondered what the birds made of this flock on the ground. Did those eyes take them in? Did we even figure in their landscape? Hampstead is well served with magpies.
And walking down from London University through Trafalgar Square, there was Nelson on the top of his column on a mild, dusky evening, with a flotilla of grey clouds beyond him. He looks down towards Westminster. Perhaps he was sending down some relief vessels.
It's been busy. James Cook, a producer, and myself have been doing a programme on Ted Hughes which goes out tomorrow night (Ed's note: That was last Friday. You can hear the programme online for the next five days - PM) on Radio 4 (at 8.00pm!). This was triggered by Ted Hughes's entrance into Westminster Abbey in Poets' Corner.
It was a wonderfully simple service, conducted, with his usual style, by the Dean of Westminster. Juliet Stevenson and Seamus Heaney read poems and Seamus gave a superb address, part of which will be in our programme. Carol Hughes, Ted's second wife and obviously widow, organised the event and she, too, is on the programme, giving a very rare interview.
The other task has been continuing the pursuit of the history of the written word with Tom Morris. This time we went to London University to see an extraordinary collection of more than 15,000 implements and artefacts to do with the written word - clay tablets, papyri, early pens, early books, etc - all collected by a Mr Cole of Enfield, who's devoted his lifetime to bringing together what is a unique assembly which is now to become an online museum.
Where would we be without such benign obsessives?
Then off to York for the final talk of the year on the book about the King James Bible and a chance to look at their magnificent Christianity and Culture resource centre, which is reacclimatising schools and universities to the idea that those two have had, over the past few centuries, a profound connection.
Best wishes
Melvyn Bragg