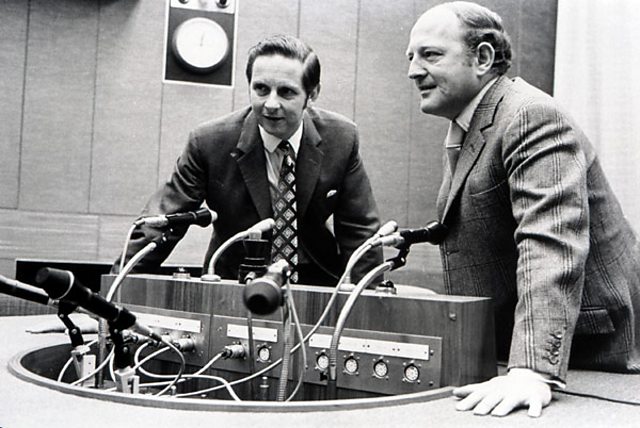 John Timpson and Robert Robinson, presenters of Radio 4's Today, 1971
On the BBC News website Caroline Raphael, commissioning editor for BBC Radio 4 comedy, called her former colleague a "radio legend":
"[Robinson had] one of the most recognisable and pleasurable voices on radio. Many of the Radio 4 listeners will have grown up listening to Robert and enjoyed his quiet, wry intelligence. We'll miss him."
Of Robinson's time at the Today programme, starting in 1971, the Telegraph wrote:
"In hiring him, the BBC took a gamble. Robinson had never been heard regularly on radio before. Neither, as it turned out, had he ever actually heard the programme himself, being an habitual slugabed who always slept through it... But Robinson quickly hit his stride, striking up a winning on-air camaraderie with the avuncular Timpson. In Robinson's hands, the 30-second cue (introduction) to an item became an art form. 'Bob learned to use words to fashion lexicological objets d'art,' Timpson observed."
Paul Murphy is the Editor of the Radio 4 blog