Feedback: How easy is it to contact BBC programme makers?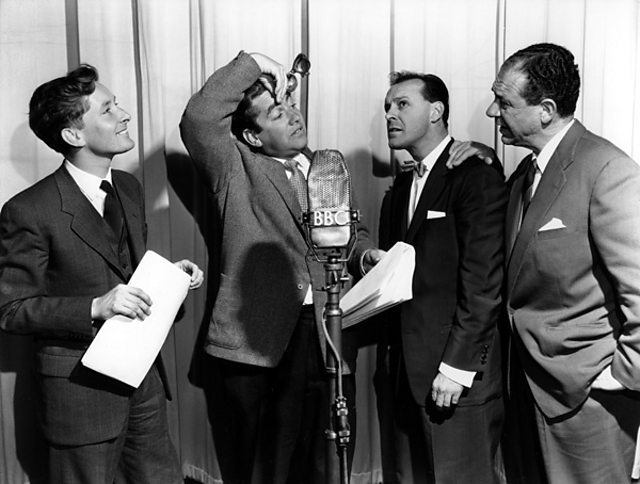 Hancocks Half Hour 07/10/1956 © BBC Kenneth Williams, Tony Hancock, Bill Kerr and Sidney James
Feedback returns this week at 4.30pm on Fridays with a repeat at 8pm on Sundays and we are of course available on BBC iPlayer.
So this week I was sitting in Western House, next to BH in central London, waiting to interview Radio 2's Head of Programmes, Lewis Carnie.
The young man in charge of the studios looked of course around 12, and behind him on the wall were black and white photographs of the comedy greats of 50 or even 60 years ago.
Of course, dear reader, I recognised them all.
Tony Hancock, for example, was flanked by Kenneth Williams, Sid James and Bill Kerr. Around the corner was a photo of "Professor" Jimmy Edwards with Joy Nichols (shortly to be succeeded by June Whitfield) and Dick Bentley rehearsing "Take It From Here".
So in writing this week's Feedback script I popped in a TIFY catchphrase "Black Mark Bentley".
None of the people in the office, and some are not in the first flush of youth, knew to what or whom I was referring. The reference was removed from the script.
I tried another tack, this time to demonstrate that I was not totally out of touch with contemporary culture, referring to TOWIE.
This half the office did get, although of course they would not admit to watching ITV's The Only Way is Essex.
So how wide and how old can cultural references be on Radio 4?
Just yesterday on the Today programme I heard Leonard Cohen (oh you know him) quoting Yeats (WB the poet) about "The rag and bone shop of the heart".
I turned away from these reflections to the business in hand and asked Lewis Carnie why he had chosen Richard Madeley to stand in for Chris Evans on his station's breakfast show.
We also explored how easy or difficult it is to contact BBC programme makers. Do let us know how you get on in trying to make your point.
Roger Bolton presents Feedback