The Silver Sword comes to Radio 4 Extra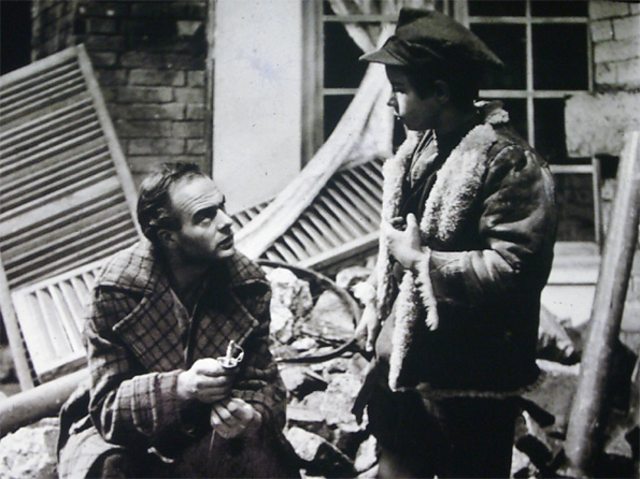 [L to R] Barry Letts as Joseph and Frazer Hines as Jan in the 1957 BBC serialisation of The Silver Sword
The first time I saw my father's book The Silver Sword being transferred to another medium was in 1957. I was 7, and Dad took me and my older sister Helen up to Shepherd's Bush, where a black-and-white television version was being filmed. We watched the young actors scrabbling through the studio rubble, and I remember being completely astonished that the producer called everybody "Darling".
Over 50 years later, a question was sent to the Daily Mail's 'Answers to Correspondents' page: "Does anyone remember a TV programme from the Fifties about children looking for their parents in war-torn Europe? I think it was called The Silver Sword". One of the excellent replies came from Frazer Hines, who wrote, "I played Jan, a ten-year-old Polish tearaway. This was in the days when families sat down together for Sunday lunch then watched the afternoon serial. The Silver Sword was a popular show, and even today people will come up to me and say, 'Aren't you off the TV?' When I say, 'What, Emmerdale?', they say, 'No, that thing about the sword.'"
So I was excited when I and my brother Andrew were invited to Manchester to watch the recording of a new radio adaptation by Chris Wallis. "You probably know the book better than anyone else," said Charlotte Riches, the producer. "We want you to tell us if anything doesn't ring true."
I watched fascinated as the group worked fast to get the three episodes recorded in three days. Stage Managers hunted for - or created - sounds of houses being blown up, dogs barking, dustbin lids banging, a silver sword falling to the ground. In any scene involving the youngest child 'Bronia', Charlotte ran quickly between the actors by their microphone and her chair in the darkened studio (the number of minutes children can work without a break are strictly timed). Accuracy was a priority: the Polish children called their father "Tatush", and Jimpy the cockerel was "Yimpy".
In the small actors' room I met the cast and discovered that when not acting, 'Edek' is a carpenter and 'Ruth' a writer; 'Jan', who had starred in West is West, had just got off a plane from America, and 'Bronia' (always accompanied by one parent) much preferred a day at the studio to a day in school. I even got to act one line where a 'woman' was needed! - while my brother became a lorry driver and then provided his beautiful warm voice as the announcer at the beginning and end of each episode.
But all was not straightforward. I felt that one scene in Chris's script clashed badly with the spirit of the book. Chris had inserted a very explicit scene where Ivan takes the children, who need shoes for the next stage of their journey, to a huge dark warehouse, containing 'a mountain of shoes' next to a 'mountain of teeth' and 'a mountain of spectacles.' I felt that this graphic concentration camp image had no place in a play that was otherwise very faithful to the gentle spirit of the original. I wonder what you will think of the compromise we reached in Episode 2.
There seems to be much interest in The Silver Sword at the moment - a year before the centenary of Dad's birth. Perhaps this story about refugees, and the courage of children in perilous circumstances they cannot control, is as relevant as ever. Options are out for a stage version and a TV film, and it is currently featured as one of five classic war stories for children in Once Upon a Wartime, an exhibition at the Imperial War Museum.
It could be that this new radio version will bring the story to new young listeners, and will remind their parents of a book they may remember as having been important to them in their own childhood. Oh - and during the making of this version, nobody called anybody "Darling"!
Jane Serraillier is the daughter of Ian Serraillier, author of The Silver Sword