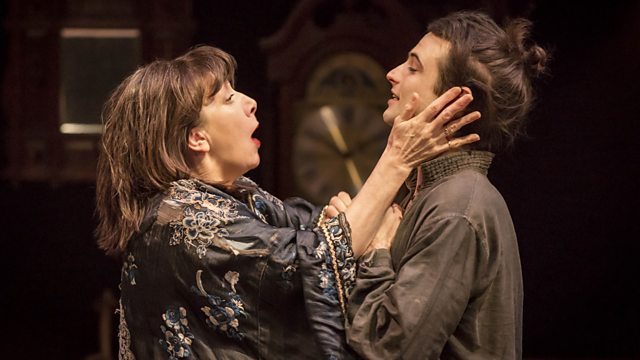 Polly Stenham's latest play No Quarter
It's always a little tricky trying to think of how to do end of year or Christmas programmes, but after our comedy special this year we thought we might focus this year on work that had divided the critics - the novels or films that have had passionate defenders and vehement opponents. Judging from the first few weeks of January though I'm wondering whether we're going to have room to get everything in.
Next week we'll be reviewing Kathryn Bigelow's film Zero Dark Thirty, which has provoked fierce debate in the States over its depiction of torture.
And this week we're doing a film which has provoked almost as many column inches... Quentin Tarantino's Django Unchained - which sets its story of revenge and bounty-hunting in the ante-bellum South. Tarantino didn't want to discuss the issue of film violence when interviewed recently by Channel Four news but I'm hoping our reviewers won't be shutting my butt down on the issue, as he so elegantly phrased his disinclination to continue Krishnan Guru-Murthy's line of questioning.
Peter Kemp, Paul Morley and Kamila Shamsie are on the show this week - and we're also reviewing two accounts of the misbehaviour of gilded youth - in Polly Stenham's latest play No Quarter (pictured) and Amber Dermont's debut novel The Starboard Sea, which arrives with a glowing recommendation from Marilynne Robinson.
And we're reviewing Louie - a new comedy from the New York stand-up Louie CK, which has gathered adoring fans in the States, and visiting the British Library for a small exhibition on the literature of murder... I did not know before this week that Agatha Christie disliked Poirot and refused ever to have him depicted on a cover. But I do now.
Concerning this blog some of you have requested that we give more information about forthcoming programmes, rather than just the next one up, and from this week we'll try to do more of that.
We'd also like to start feeding some of the comments from this page into the programme. So if you hear things that make you shout at the radio (I can't believe it doesn't happen regularly) let us know here.  And if anybody has views on Utopia or Les Miserables, which we discussed last week, let us know those too.
Download the Saturday Review programme