Life and Fate: How long have I got to download all the episodes?
All the episodes of Radio 4 adaptation of the epic Life and Fate are available to download until this Sunday when the first episode expires (NB: The expiry dates on the podcast page page are wrong - you need to deduct 14 days from the stated availability. There's a longer explanation of why the dates appearing are wrong here*).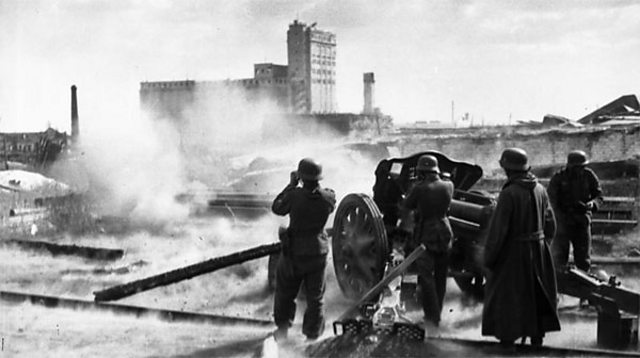 Stalingrad, used under license from the Deutsches Bundesarchiv
Life and Fate: Some of the reviews
In The Telegraph Pete Naughton was effusive in his praise:
"Life and Fate is fabulous, mind-expanding drama, brilliantly adapted from Grossman's book by Mike Walker and Jonathan Myerson and delivered with great subtlety by a big-name cast. I'd be staggered if it's not an enduring hit..."
The Observer's Miranda Sawyer found it harder to get into:
"But by episode 5, where we joined Sofya, a Jewish doctor captured and put, with other Jews, on to a cattle truck to Poland, I was utterly gripped."
And she concludes:
"I yearn for a long, lonely car drive and to listen to the whole drama all in one go."
Life and Fate is dark, challenging and at times difficult to follow. And I suspect some may have been daunted by the subject matter. But as The Guardian's Elisabeth Mahoney says:
"This is a tough book, shaped by Grossman's own experience - his mother was among 20,000 Jews murdered in Berdichev in 1941 - and his time as a war correspondent, during which he wrote one of the first eyewitness accounts of a Nazi extermination camp. It can make grim listening in places, but this is countered by beautiful writing, exquisite acting and the sheer class of the adaptation."
Paul Murphy is the editor of the Radio 4 blog