The legendary lost Men Behaving Badly pilot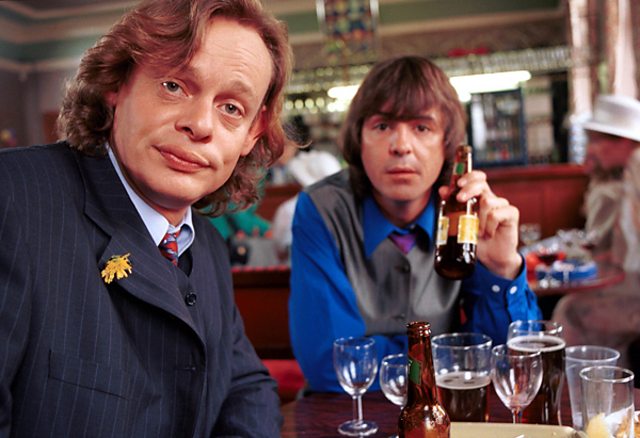 http://www.bbc.co.uk/programmes/b00ym5fc
Whilst working on this week's Britain In A Box, I had a rare treat when we managed to obtain a copy of the original, never-broadcast pilot of 'Men Behaving Badly'. The pilot was made for Thames TV, directed by their then Head of Comedy, John Howard Davies and starred the eventual cast of the first series, Harry Enfield, Martin Clunes, Caroline Quentin and Lesley Ash.
By common consent it was awful and, unusually, a second pilot was commissioned; this time directed by Martin Dennis, who went on to helm all the subsequent episodes of this long running show. That version was considered good enough to go for a series. Now the existence of this first pilot is one of those stories you hear about around the business but I was not at all sure if a copy still existed. In the event, writer Simon Nye had a cassette and, with the generous permission of all involved we were allowed not only to view it but even to use a short clip in this week's show.
It is interesting to note the changes that the team made between recording a pilot that didn't work and one that did and they discuss some aspects of that process on the show, which is the 3rd in our current series.
Pilots are funny things. It's not always clear if you are trying out the show to see if it works or looking out for what needs adjusting: a "we're doing it but not exactly sure how" sort of pilot; or rather a "shall we make this at all" type pilot. Getting that distinction wrong can lead to some pretty tough conversations after the event.
In the US the system is clear; there is a distinct 'pilot season' - from mid January through to late April, when every writer, producer, actor, TV agent and network executive in Hollywood frantically works night and day spending tens of millions of dollars in the hope of landing that elusive series sale for a new Drama or Comedy series. In that race there is no doubt. There are a frighteningly tiny number of slots available in the network schedules and you are all fighting to grab one of them. And if you win the race, you do in the certain knowledge that you then move on to the 'now what do we need to change' stage of the process. We would quite honestly make a 6 part series here with the money that is spent on any one of these pilots; as a UK writer working there once said to me, we could make one episode on the cost of the crew hospitality alone.
Here in the UK we tend to order pilots when we need them and we try to make them as near to ready for broadcast as possible. It sometimes happens that a particular artist or maybe an idea becomes flavour of the month and gets offered several pilots at the same time. I once called an agent to ask if one of his acts would be interested in doing a pilot for me, only to be told he was much in demand already. "He's got more pilots than Heathrow, Paul" was the exact response.
In fact the first pilot I ever produced was the first episode of the Young Ones. I delivered it to my boss who showed it to a group of his colleagues and reported the reactions back to me. "Don't worry, we've got more expensive flops than that in the vaults already" was one comment. Which brings us full circle, as that was said by John Howard Davies, who directed the first attempt at 'Men Behaving Badly' and who had the foresight to commission a second pilot and stick with the show.
Paul Jackson is presenter of Britain in a Box