In Our Time: The War of 1812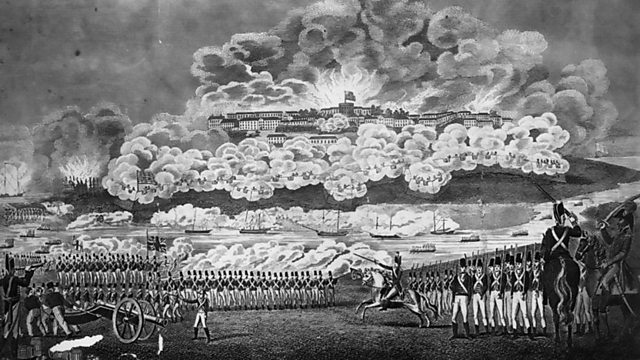 The War of 1812
Hello
For most of us 1812 means the Overture or Napoleon's ill-omened march on Moscow.  The only good effect of that was that somehow it inspired Hitler to do the same stupid thing and in both cases led to the defeat of two dictators, one, of course (the latter), much worse than the other.
But a war with America!  Who could think of such a thing!  It just shows you: what goes around comes around.  And in the future...?  We never know.
Just before I went to Israel I wandered around London in the cold which is so pleasant, especially when the snow has been swept from the pavements and your feet are not freezing after the first hundred yards.  There's so much to notice in London.  First of all, you occasionally pick up the sound of English being spoken!  But secondly, I began to notice scarves.  Chaps with scarves particularly.  There's the bohemian scarf worn by elegant chaps in the environs around Buckingham Palace and among thespians, which is a rather loose-tied scarf loping down from the neck, showing an elegant carelessness.  There's the university flick, which has one leg dangling down the front and then a single wind around the throat and the other leg dangling down the back - a little bit Dr Who and a little bit juvenile lead.  There's the good boy scarf, neatly folded in front and tucked in tight to protect the throat and the chest, no doubt with a Vicks rub underneath.  There's the scarf which is wound round and round the throat - could be called the throttling scarf, or I-don't-care-if-anybody-knows-I'm-wearing-a-scarf-but-I-really-need-to-keep-warm.  Then there's that funny Italian double loop which came in a couple of years ago, where you shove both ends of the scarf through the loop and bring it round your throat and flash it off in rather an unnecessarily vain way, although, it has to be confessed (I'm afraid I've tried it once or twice), is very warm.  There are many other scarves, including of course the one that is simply hung round the neck like a halter and demurely crossed under the top button.
But enough of scarves.  Off to Israel now so I'm doing this newsletter in advance.  The first time I went was on a British Council tour with, among others, the late Iris Murdoch, the late Beryl Bainbridge, and what a wonderful trip it was.  Stories, stories, but no space for them now.  A revelation for me.  Israel was as familiar in my imagination, if not more familiar, from the Bible as Manhattan was from the movies.  Now roving over the place to find the 'real' Mary Magdalene and then through the Wall to Palestine and Bethlehem.  I went there once also to do a trial film for Jesus Christ Superstar, for which I'd written the script more than forty years ago, which led me to my first interest in the 'real' Mary Magdalene.  I worked there for eight days with a small Israeli crew and have never had a better time making a film in all my life.  You had the amphitheatre at Caesarea to yourself, and the rock musical pumped out while approximately twelve people stood in the amphitheatre and, somehow or other, it seemed enough for the scene that I had written (although I wrote it as a silent movie - if that makes any sense).
Dictating this from the House of Lords, having just listened to an excellent debate on nuclear weapons and the defence system of this country.  And before that had lunch at a place which was new to me, but in the corner there were the instruments for a jazz band: drums, a lolling double bass and a couple of microphones.  To be returned to.
Best wishes
Melvyn Bragg
Download this episode to keep from the In Our Time podcast page
Visit the In Our Time website
Follow Radio 4 on Twitter and Facebook