Making the invisible visible - The Radio 4 Christmas Appeal starts this Sunday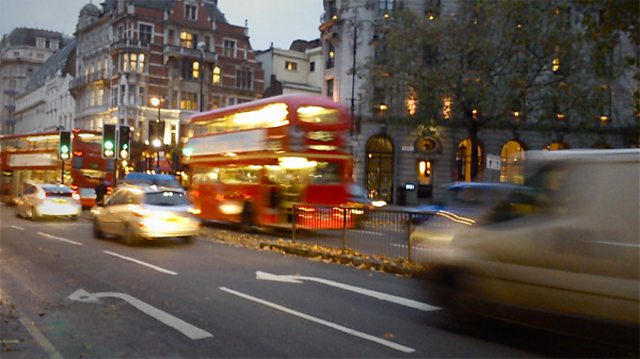 If you phone us to give a donation on Sunday - we promise we won't play you music whilst you wait to give! You will hear Libby Purves giving you some facts and figures about why your donation is so crucial.
You may hear the bells of St Martins - each year we set up a call centre manned by volunteers, in the church offices - just alongside the church. Or you might go through to one of our volunteers in Belfast - organised by our colleagues at Capita. We'll be keeping them going all day with copious amounts of tea, coffee and cake. (This Radio producer feels that cake is always the solution!)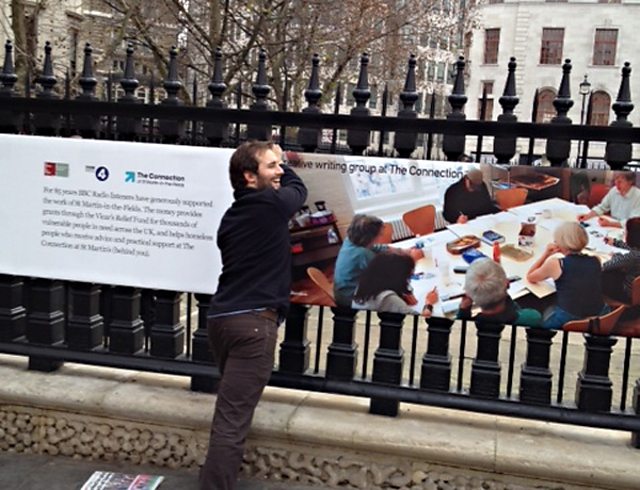 Work by the homeless photography and writing group at St Martins
It has been a busy week. On Monday we put up an exhibition of work by the homeless photography and writing group on the railings of St Martins. It has been great to watch people stopping to read the boards.
David a former homeless client found he was suddenly greeted by a group of school children who had recognised him from the photographs! Making the words and pictures of homeless people 'visible' is for me the real power of this work. You can also get a taste of these pictures thanks to a slideshow made for us by the BBC magazine Ariel.
On Wednesday the Connection will open their doors to the public so if you are around London that day and would like to see at first hand the place you have heard about over the years - do drop by. Libby Purves will be opening "Behind Closed Doors" at 1pm. The centre will be open through till 6pm with an art exhibition, music, food and refreshments and a chance to see at first hand how the centre works.
I think if you ask most of us to picture a homeless person what may come to mind is someone lying in a doorway... not a young woman staring into brightly lit shop windows thinking that if she could just step through that door, that glass, she could be back in the world with everyone else.
I made this slideshow with an artist Betsy Dadd - she said that the power of the photographs taken by homeless people was for her that we were not just presenting a caricature of what it is like to be homeless.
The homeless person has taken the pictures, thought what they want to say - told their story. The slideshow hopefully helps to make the invisible visible.
So thank you to everyone who has given in the past and if you are new to this appeal - welcome to a charity that has been going for 85 years, some of our donors started giving when they were children and are now in their eighties - you're in good company.
Sally Flatman is producer of The Radio 4 Appeal