80 Years of the World Service
We are celebrating eighty years of the World Service this year. And this is also the year that Bush House is to close and colleagues will join us here in Broadcasting House.

Before I came to Radio 4 I was Director of the English World Service and one of my last commissions was to invite Hamid Ismaelov, the well -known and much translated Uzbek writer and Head of the Uzbek service, to serve as the World Service Writer in Residence.

He has written a poem which was broadcast this week on The Strand - the World Service daily arts programme- in honour of Bush House. I thought you might enjoy it. Gwyn.


Gwyneth Williams is Controller of BBC Radio 4 and BBC Radio 4 Extra
A poem by Hamid Ismaelov:‬
‪From my childhood spent in a clay hut of a mountainous Uzbek village‬
‪to my life in a Soviet Moscow in a shanty two piece flat,‬
‪I used to dream of a grand house‬
‪with a marble staircase.‬
‪That dream was quite regular:‬
without any intention I dreamt again and again that house with marble columns and stairs, leading upwards.‬
‪I read Freud, I read Yung, I read other interpreters trying to understand what does that dream mean?‬
‪A gypsy fortune-teller told me in Sverdlovsk: 'You'll have a grand house in your future, the house with marble columns and stairs leading upwards'.‬
‪My life is nearly ending, but living in an ex-council town-house I often think what about was that empty promise, that dream which never came true? ‬
‪But dreams aside all of a sudden I realised that over the last 18 years almost a third of my life I lived in that house with marble columns and stairs in between leading upwards.‬
‪I haven't noticed it until we've been asked to leave it.‬
‪Bush House - the Noah's Arc of nations,‬
‪the runway where voices take off and fly over the Earth,‬
‪the kingdom where echoes of dead are kept alive,‬
‪the thinking brain, the watchful eye, the sharp tongue and the caring heart of meridians,‬
‪Bush House - an English pub, an Uzbek chay-khana, a Spanish tavern, an African hut, a Russian kabak,‬
‪where views and opinions fly around vibrating the globe,‬
‪Bush House - a cold mirror in front of that old, beautiful and furious world...‬
‪A house of my unnoticed but fulfilled dream...‬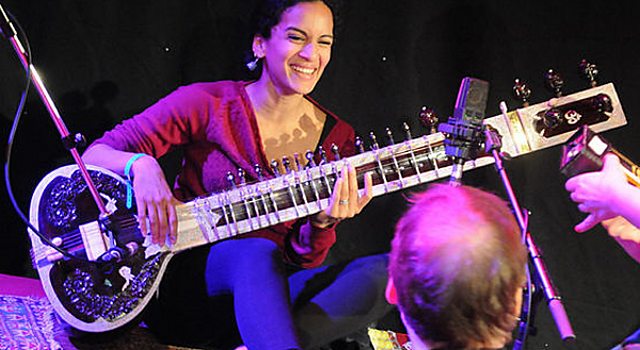 Anoushka Shanka performs for The Strand at the live concert to celebrate 80 years of the World Service.