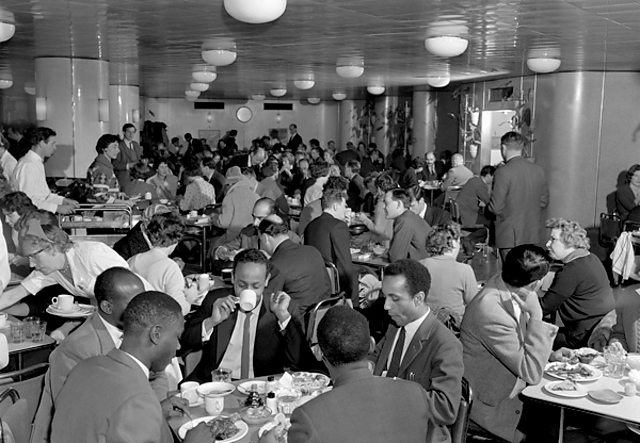 Bush House canteen, 1960
On Wednesday this week I was sitting in the entrance hall of Bush House off the Strand in London, home of the BBC World Service although not for much longer.
By the end of the year almost all of its present inhabitants will have moved a mile or so north west to the newly refurbished Broadcasting House, which will host the Corporation's News centre.
I felt rather nostalgic.
I sat in the same place on my first day in the BBC in 1967, a young trainee from the north, overpowered by the lofty building and the lofty people in it, many of whom adjourned to the bar at every opportunity to discuss past glories and present conquests.
The best thing about Bush for me in those far off days was the canteen which provided, at very reasonable and subsidised prices, dishes from every part of the world.
However many of the producers seemed bored by the food, living off coffee and cigarettes, wearing black roll necked sweaters and probably planning revolutions in their home countries, from which many had fled or been exiled.
It give me quite a jolt to realise that, back then, not only was the Iron Curtain uncracked but Spain and Portugal were not yet democracies and Mao's Little Red Book was being touted as more important and relevant than the Bible.
By the time I reached Bush, From Our Own Correspondent, had already been broadcast from there for more than 10 years.
FOOC, as it is inevitably known in the BBC, and best pronounced without a northern accent, has hardly changed its format in 55 years and judging from our in tray is still greatly admired, though as you will hear even fans can be critical. Fooc's editor is Tony Grant. You can hear him in today's programme on the website.
By the way it's not too late to send us your application to be the next Direct General of the BBC.
Even though Mark Thompson has not made public his intentions, the BBC Trust says it is engaged in "sensible succession planning" to replace him.
So do let us know if you think you are up to the job and we may organise an on air preliminary interview as we did this week for listener Rwth (sic) Jones.
I hope the internal candidates are listening as they could pick up a few valuable tips.
Thanks for listening, and reading.
Roger Bolton presents Feedback