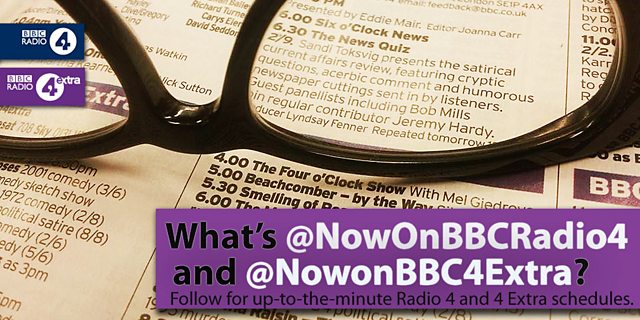 Today we've launched two new Twitter accounts that help answer one of life's eternal questions, 'What's about to start on Radio 4 or 4 Extra?'
If you follow @NowOnBBCRadio4 and @NowOnBBC4Extra you'll receive a tweet just before the next programme is on with a link to listen online if you're not near a radio. Scrolling back through the timeline is also a useful way to catch up with programmes you might have missed.
We know that many Radio 4 and 4 Extra listeners use Twitter to find out what's on the station but we're not able to tweet about every programme from @bbcradio4 and @bbcradio4extra.  We hope that this automated service will help listeners miss less of the great array of programmes on the two networks.
It also means that we can we concentrate on developing the main @bbcradio4 and @bbcradio4extra accounts as places where we can highlight more hidden gems and clips, share photos and talk with our listeners.
Follow us on Twitter: