In Our Time newsletter: Ptolemy and Ancient Astronomy
Editor's note: This week Melvyn Bragg and his guests discussed Ptolemy and Ancient Astronomy. As always the programme is available to listen to online or to download and keep - PM.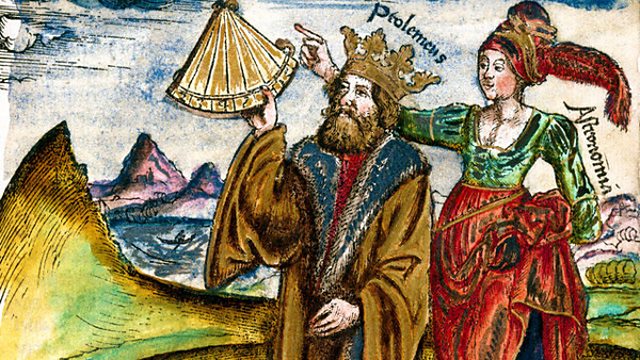 Hello
It's such a great day out there that I want to talk a little about that, but first the footnote to the programme.
Is it more fascinating to know very little about someone (Shakespeare, Ptolemy) or much, perhaps too much (Dickens, Dostoevsky)?
Ptolemy's religious views were taken up in the Arabic tradition and his vague divinity was made into a belief in Allah, so Charles Burnett, the Arabic expert, told us. He also said that so many people went to the Arabic in the late Middle Ages in order, or solely, to look out the Almagest.
It was the great book to read at the time. Having said that, he added, it was such a difficult text that most people didn't get beyond the first few chapters and abridged and simplified versions sold a lot better.
Out onto the streets afterwards and what a day it was. First a meeting with Tom Morris, who has left In Our Time for the moment to produce a series called The Written World. In pursuit of that, we spent yesterday in the British Library which was a sort of paradise.
We saw a first edition of the Gutenberg translation of the Bible; writing almost four thousand years old on the shoulder blades of oxen in Chinese and much, much more. Including being able to pop in to see the illuminated manuscripts exhibition which is fantastic.
Okay, I have a privileged life. I also got to the Leonardo - queued, though, and half an hour in front of most other people - and think that the Leonardo at the National Gallery, and the illuminated manuscripts at the British Library, and the never-ending refurbished diversity at the British Museum make London a fountain of visual culture. (Did I write that?)
Down Regent Street then. Not many sales these days. Towards St James's Park. And there he was! The man on the white horse who I saw three months ago. He has a flowing cloak; he has a burnished helmet with a plume in it; he faces the palace; he has a sword. And as I came he turned his horse and galloped - yes, dear reader, he galloped! - towards Horse Guards Parade and towards six or eight jet-black horses, each one surmounted by another chap in a burnished helmet with a plume. I rubbed my eyes and realised that, yes, this was England.
Down to St Margaret's Church, the little niece of the Abbey of Westminster. A beautiful church, in which my daughter was taking a service that morning. Saw the tomb of Walter Raleigh with its wonderful inscription about being a man full of errors but also a man full of virtues, but, most of all, he was mortal. Then wandered around the precincts of the Abbey with my daughter to find the Church House Bookshop, to cash in a book token I'd been given for being part of a series of lectures inside the Abbey itself to mark the 400th anniversary of the King James Bible. Bought a wonderful facsimile edition of the King James Bible itself.
Back through St James's Park (sorry that I'm having such a good time). The black swan with the red beak was pecking its chest vigorously, and up through the congested traffic of Pall Mall. Fell into step with a senior Tory politician who said "It wasn't broke, why mend it? Will Boris never learn?" And then... oh, this is getting far too much, isn't it? But I was on my way to lunch with a man I met more than fifty years ago, one of my very best friends, and about every six weeks we split a lunch to talk about nothing at all.
And then back to the office and down to a pile of e-mails. And what have I left out?
Well, odd things. Why the great plastic growths in the gardens of the British Academy? Why do police motorcycles, which can easily thread through traffic, put the full blare on as they go through Piccadilly? Why do wine merchants put wonderful looking wine in their windows without a price attached? It's about time I got back to work.
Best wishes
Melvyn Bragg
PS: As I was walking up St James's, feeling that I might well be melding into someone in a P G Wodehouse novel, a large car passed by, the window was lowered and Lord Puttnam himself leaned out and said "Loved Ptolemy", and his wife, Patsy, leaned out also and said "I expect we'll be reading about this walk later". That's what friends are for!
Melvyn Bragg presents In Our Time