As part of Radio 4's countdown to Bloomsday on 16th June, James Joyce's Playlist is broadcast Saturday 9th June at 10.30. Recorded in James Joyce's Martello Tower near Dublin, presenter David Owen Norris discovers and recreates James Joyce's favourite songs. The programme's producer, Elizabeth Burke, has written this blog about why James Joyce is such a good candidate for the Playlist Series - CM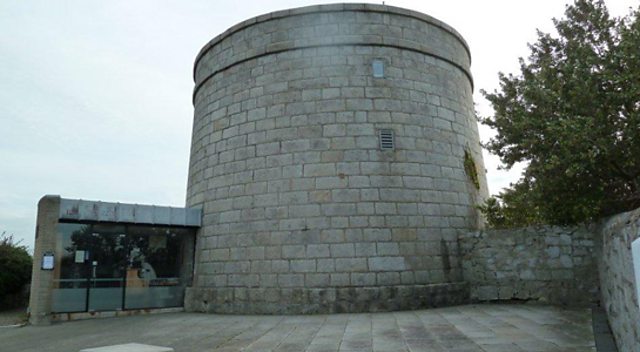 The Martello Tower in Dublin
I`ve always been afraid of James Joyce. Too difficult, too clever, a club I didn`t feel able to join. I spent three years studying literature without reading a word. I owe my Joyce education to my son; he took me on a Joyce pilgrimage and I walked round Dublin listening to `Ulysses` on my headphones. I suddenly understood: this is writing which makes sense when you hear it aloud: like music.
So it was no surprise to discover that James Joyce`s first ambition was to be a professional singer. The summer he was 22, he entered a prestigious singing competition; he flunked the sight-reading test and only managed the bronze medal. But Joyce carried on singing, and on the way to a gig he spotted a pretty girl in the street. She was Nora Barnacle; it was June 16th 1904, and the rest is literary history. This was the day on which Joyce set `Ulysses`, a date celebrated round the world as `Bloomsday`.
James Joyce is the perfect candidate for the `Playlist` series I`ve been making with musician David Owen Norris. We hunt out the favourite songs of great figures from the past - Dickens, Jane Austen, Shakespeare. We ask biographers and historians to tell us what music they played and sang, and we discover their own sheet music. (Samuel Pepys` was covered with wine stains; Jane Austen`s had caricatures in the margins.) David arranges the music in a jazzy contemporary style that you don`t even notice as a style - so we hear it as we hear music now, not as historical Early Music. It works, with the odd result that few notice the care and inspiration David brings to the arrangements. We record with musicians from very different backgrounds. Gwyneth Herbert is a jazz singer, Thomas Guthrie a classically-trained singer and opera director. Violinist Camilla Scarlett, clarinettist Andrew Lyle and guitarist Johan Lofving complete the team. With sound engineer Jon Calver, we squeeze into my sitting room, David Owen Norris at the piano. (My husband`s grandfather`s piano, a wonderful Steinway.) It`s fantastic fun. Then David and I take our recorded tracks to a location associated with the person -Thomas Hardy`s house, or Robert Burns` cottage, or Buckingham Palace even - and there we meet our experts and listen to the music with them.
It`s taken a year to assemble our guests for James Joyce`s Playlist. Declan Kiberd, the eminent Joyce scholar, was teaching in the US; the actor Barry McGovern was performing in LA; and Katherine O'Callaghan was about to have a baby - and start a new academic job in the States. Finally, David and I arrived with researcher Frances Beere at Joyce`s Martello tower to meet our dream team. They were terrific, as you`ll hear. Barry even played Joyce`s guitar for us. Best of all, there weren`t enough chairs and so I had the unforgettable experience of recording the programme perched on James Joyce`s bed (sheets none too clean). And to think I used to be scared of him.
Elizabeth Burke is the producer of James Joyce's Playlist.