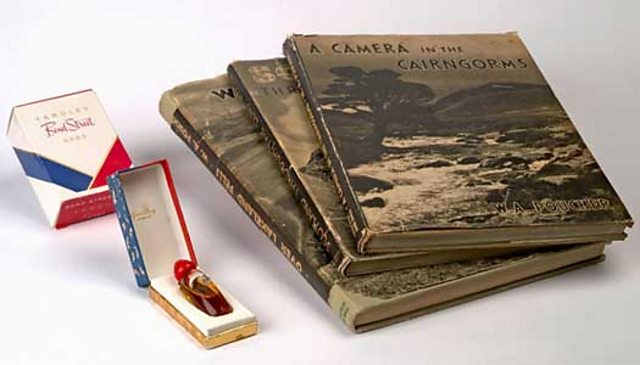 Picture this: it is cold, the wind is hammering from the north, you are on an exposed ridge somewhere on the craggy backbone of England, shivering and snuffling and regretting your wet day out in the countryside when some chancer from the BBC, waving a wind-socked microphone under your chin, offers you from a small bottle not a slug of restorative brandy but a sniff of a dry-blood-coloured and rather acrid smelling ancient perfume called Bond Street and asks you if you spot the connection between the smell and the view.

I don't usually climb rocks and I am not too liberal with the cologne but I knew the story of Walter Poucher - the perfumed mountaineer - was worth telling as soon as Hayden Lorimer, a cultural geographer at Glasgow University, suggested that we might try to make a radio programme about him and his remarkable double life.
Hayden does know his hills, he runs up and down Scottish ones for pleasure, he has also always seemed properly fragrant, so, I was very pleased to set off with him into the English Peaks and Scottish Highlands but also down Jermyn Street in central London to the back rooms of a perfumery in pursuit of people who either knew the man himself or knew about the life and works of Walter Poucher.
Poucher was born in 1891 and died in 1988. He had two careers. His day job was as a chemist turned perfume inventor. For six months of the year he worked for the perfumers, Yardley. Bond Street, which he invented, was one of Yardley's signature fragrances.
The air of Britain for decades was scudded with little smelly clouds of it. Poucher also wrote a three-volume book of smells, an encyclopaedia of cosmetics and perfume recipes, which is still in print and still in use. For the other half of the year he travelled throughout the uplands (the Surrey 'Hills' counted as 'up') wearing plus-fours and red socks (good, he said, for attracting attention in a white-out) taking photographs of every possible angle of the majestic mountain scenery of Britain.
For his second life was as a pioneer landscape photographer in these places and he went on to produce dozens of illustrated studies and practical guidebooks to the hills of Britain. He created what now seem like classic landscape portraits. If you imagine a British mountain scene in your mind's eye the chances are you are seeing a Poucher.
A perfume inventor and a mountain photographer on their own are interesting but perhaps not quite interesting enough to merit a Radio 4 feature. But when brought together and especially when the single subject himself field-tested his inventions on the high places of Britain and you have a life that surely merits a little study. Poucher was known for wearing more than red socks on the hills and for the rather male world of mid-Twentieth century mountaineering a man in eye makeup and foundation on Scar Fell or Snowden was quite a sight.
Hayden bought old red-capped bottles of Bond Street and unopened Bond Street scented soap from eBay and scoured second hand shops for Poucher's books, I persuaded a charming professional nose, Sheila Foyle at Floris, to analyse Walter's smell, Poucher's biographer Roly Smith agreed to meet us at a Poucher viewpoint, and Dennis Gray who, as a young mountaineer, posed as a bit of foreground in a Poucher picture, remembered meeting the man. And it turned out that I too had a trace memory of him.
If, like me and Hayden, you spent the early 1980s watching TV you might remember a dreary November evening enlivened with an edition of the Russell Harty talk-show on which his guest, the singer Grace Jones, looking terrifying in PVC and gloves, started attacking her host for apparently turning his back on the diva in order to talk to another guest.
That other guest is an elderly gent in smart suit but also clad in golden gloves and with striking sky-blue eyeliner. He looks terrific if a little bemused by the attack.
That was Walter Poucher. And how modern the overall effect of his makeup and mode now seem.
When it comes to staging and managing your life Walter perhaps was ahead of the game and knew things that would have surprised both Grace Jones and Russell Harty.
He already was familiar with both the joys and comforts of man-scara and guy-liner. Here was a funny old buffer who might have been booked on to the talk-show as a bit of camp relief but who seems thirty years on to have been a very telling specimen of metrosexual man fully at ease with himself and decades before he was supposed to have evolved.
Tim Dee is Producer of The Perfumed Mountaineer BBC Radio 4