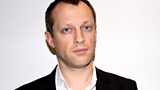 Phil Tinline
Producer
Blog posts in total 3
Posts
Docudrama Winter Exercise examines a secret government Cold War drill. where senior civil servants role-played the Cabinet as it tried to deal with an imagined nuclear crisis.

Radio 4 producer Phil Tinline discusses mining the BBC Archives in search of material on George Orwell for Archive on 4: The Road to Nineteen Eighty-Four.

Ed's note: Following recent events in Libya this Saturday's Archive on 4 explores what happens after dictators leave power - PM. Portrait of Chaiman Mao Tse Tung on the wall of the Forbidden City, 2001 Last Thursday at 12.52pm, a BBC Breaking News alert popped up in my email: ...