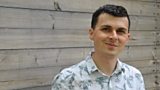 Ben Toone
Assistant Content Producer, BBC College of Production
Blog posts in total 3
Posts
Editor's note: As part of the new BBC season, When I'm 65, Radio 4's You and Yours has been focussing on covering some of the issues around ageing in the UK today. Here, Ben Toone from the show picks out some highlights. PM The season certainly opened my eyes to the issues affect...

If you're over 65, is it how you imagined? If you're under 65, how much do you think about being old? Day to day I don't, but since working on the You and Yours Ageing Season called 'When I'm 65' I have realised that I'm actually rather apprehensive about being elderly. And my worst fears? Per...

Laura Marling and Front Row's John Wilson (picture by Jerome Weatherald) For the last three weeks Front Row has been offering daily programme downloads, audio clips and topical highlights of its extensive archive. This has been part of pilot looking at how we could improve our online servi...