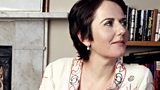 Fi Glover
Blog posts in total 3
Posts
Fi Glover reveals the ghost of a fugitive priest in the house in which she grew up in. She presents The Shared Experience, the first episode of which meets 5 people who have had ghostly experiences.

Putting Generations Apart together is like a massive jigsaw puzzle. Not one of those ones with huge amounts of blue sky and an annoying lake that's almost the same colour, but definitely one that has something that appears to be an ever changing vista in the middle. 

The editor: On Monday 8 August Fi Glover launches Generations Apart, a new series for BBC Radio 4 which tracks the fortunes of two groups of people at very different stages in their lives - the first Baby Boomers born in 1946, and the 'children of the nineties' born at the same time as the world...