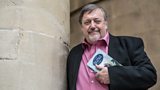 Brian Sibley
Writer and Broadcaster, Dramatist
Blog posts in total 3
Posts
The Once and Future King - an Arthurian epic written by T.H.White - has been dramatised for Radio 4 by Brian Sibley. Here, he reflects on the treacherous Mordred.

The passion and perils of being human and... the king. T.H. White's epic retelling of the King Arthur story comes to Radio 4.

Editor's note: You can still hear the first four episodes (of six) of The History of Titus Groan on the Radio 4 website. Episode five is on Radio 4 this Sunday at 3pm and on the website soon afterwards. Brian Sibley, who has dramatised Mervyn Peake's classic novels blogs on dealing on the story...