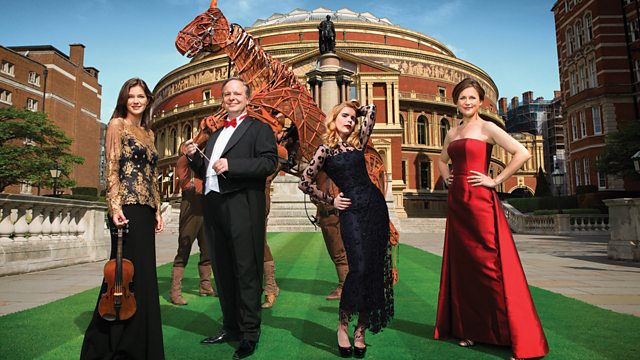 Janine Jansen, Sakari Oramo, Paloma Faith, Katie Derham and Joey from War Horse
It's that time of year again and so the day has come for the launch of this year's BBC Proms – always an exciting day for the Proms team, when we finally get to talk publicly about the plans that have been built over the last three years.
It's also a relief that, despite rumours and second guessings on websites and message boards, the whole season manages to remain under wraps until the embargo time is reached today.
Though this year marks our 120th season, the vision of the festival has remained the same since its inception – to bring the best classical music to the largest possible audience. The Proms has always sought to build new audiences. One of the key areas of our work in this area is our ticket prices, not least our Promming (standing) tickets, which this year are held at £5 for the ninth year running. Without the support of the BBC licence-fee payers, this extraordinary value for money would not be possible.
The audience for the Proms is now genuinely international and it is the global classical music world that we celebrate in welcoming many international orchestras to the Proms (and indeed to the UK) for the first time this summer. I am delighted that, alongside our more regular orchestral visitors from across Europe and the USA, we are able to welcome ensembles from Australia, China, Greece, Iceland, Lapland, Qatar, South Korea, Singapore and Turkey.
Almost half of the Proms in the Royal Albert Hall are given by our BBC orchestras and I cannot remember a time when such flourishing and exciting partnerships have existed in these groups. Without these orchestras, the BBC Singers and the two BBC choruses, planning the Proms on this scale would not be possible, or as creative and distinctive. It would also be impossible to keep exploring new ideas and fresh programming without the dedication and sheer hard work of the Proms team.
In addition to the feast of music from abroad, we have in recent years celebrated British music. We continue that momentum this year, not least by honouring two fine living composers both celebrating their 80th birthdays this year. The music of Sir Harrison Birtwistle and Sir Peter Maxwell Davies is featured this summer as is that by Walton, another knighted Lancastrian!
We also mark the 150th anniversary of the birth of Richard Strauss as we present three of Strauss's operatic masterpieces: Elektra, Der Rosenkavalier and Salome. There is also the staging of a non-operatic work when Sir Simon Rattle, star soloists and the Berlin Philharmonic present Peter Sellars' realisation of Bach's St Matthew Passion.
Bach's other great Passion setting, the St John, is conducted by Sir Roger Norrington, one of our British conductors celebrating significant birthdays this year. Sir Roger (80 this year) will, like Sir Andrew Davis (70), Donald Runnicles (60) and Edward Gardner (40), conduct two Proms and it is a thrill to welcome back Sir Neville Marriner in his 90th-birthday year, with the orchestra he founded, the Academy of St Martin in the Fields, alongside its new Music Director, Joshua Bell.
Sakari Oramo, Chief Conductor of the BBC Symphony Orchestra, will be in charge of the Last Night for the first time, and there are two Proms each conducted by Jirí Behlolávek, Semyon Bychkov, Riccardo Chailly and Valery Gergiev.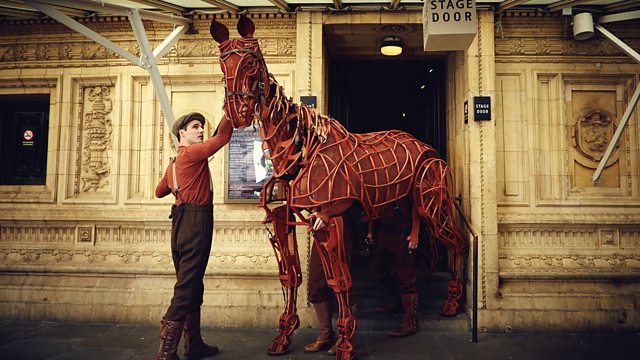 Joey from War Horse
Among the concerts honouring the World War One anniversary is the War Horse Prom, in which the extraordinary puppets from the National Theatre's acclaimed production make an appearance alongside the Proms debut of Gareth Malone and the Proms Military Wives Choir.
There are more debuts too. Look out for the first ever CBeebies and BBC Sport Proms, and first appearances at the Proms by Paloma Faith, the Pet Shop Boys and Rufus Wainwright, as well as other special Late Night Proms including Laura Mvula making her first solo appearance.
All this and much more, including the wide-ranging and attractive Proms Chamber Music and Proms Saturday Matinee series at Cadogan Hall; an array of commissions and premieres, including two of the last works by the late Sir John Tavener; and soloists such as Janine Jansen and Roderick Williams on the Last Night.
As ever, all the Proms are broadcast live on BBC Radio 3 and there will be additional broadcasts on Radio 1, Radio 2 and for the first time on both Radio 4, with a commission for its PM programme, and Radio 5 live in its 20th anniversary year. There is a remarkable commitment from our TV colleagues to bring the Proms to an ever expanding audience across BBCs One, Two and Four and for the first time CBeebies will broadcast a special prom. We're also delighted to welcome presenters from the worlds of music and arts, many of whom have not presented Proms before and will join our established presenters to bring these Proms to our television audiences. There is also a significant development in our digital Proms offer with new initiatives such as a dedicated Proms button on the BBC iPlayer Radio app, six interactive BBC iWonder guides, and the addition of BBC Playlister.
So, wherever you are and however you choose to listen, watch and interact, I hope you enjoy the 2014 BBC Proms.