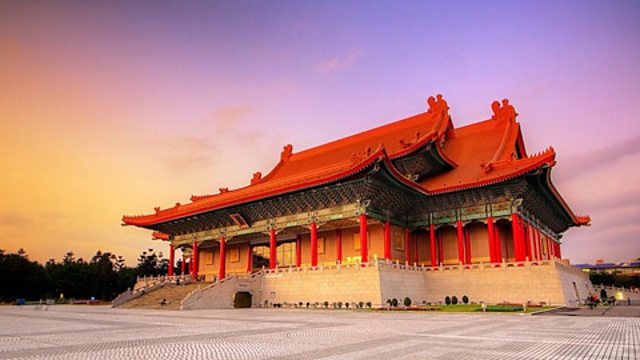 The National Concert Hall, Taipei
BBC Symphony Orchestra sub-principal viola Phil Hall reports from the orchestra's Far East tour, which has now reached its last stops, in Taiwan ... 

We fly out of Seoul just in time to escape Typhoons Fitow and Danas which are slated to batter South Korea the day we leave. There has been an unusual number of out-of-season storms here lately and I am grateful to touch down safely in Taipei.
A couple of Chinese fighter jets fly low overhead - a reminder that there are still disagreements over ownership of this intriguing island.
After a quick swim we brave the myriad Vespas swarming the roads and hit the famous Shilin night-market, purveyors of extraordinary street food, clothing and what Sir Alan Sugar would call 'Toot'. It's not long before I get separated from the group, lost in the hordes of tourists and locals. Meeting up again at breakfast we compare our spoils and I also find that I am not the only one who got lost in their Super Kingsize bed that night.
The National Concert Hall is a real treasure. Built in a traditional Chinese style it seats over 2000 and is acoustically lush. A real joy, particularly for the low end of the orchestra. Andrew Davis relishes the double basses' bottom B at the end of Elgar's Enigma Variations (in place of the organ) and it really rings out in the hall. The thought occurs to me that this is another of those touring favourites of which one never tires - a piece of real craftsmanship and tight construction.
After a slightly tepid start, the Taiwanese audience is almost overheating by the end of Wagner's Tannhäuser Overture and as Sir Andrew practically runs on for the encores, they seem deliriously happy. I think we'll be back.
At some point on a long tour there will be a fancy-dress party in the hotel. Tonight was the night when usually soberly dressed colleagues exercise their inner Wonder Woman, Hannibal Lecter or in the case of leader Stephen Bryant, turn into vampires...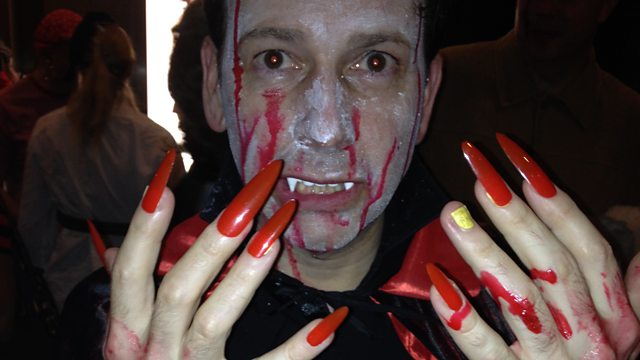 Fangs for the memory ... Leader Stephen Bryant as you've never seen him before ...
On the express train to Tainan the next morning, we compare photos of the night before while speeding past green fields and dried-up rivers as we head south. Tainan is almost tropical and the humidity and temperature rise is tangible. The Mandarins at the BBC have warned us that Dengue fever is prevalent so before the rehearsal I spray myself with insect repellent (getting most of it up my nose). Later I notice a mosquito landing on Norbert Blume's viola during a solo but resist the urge to swat it.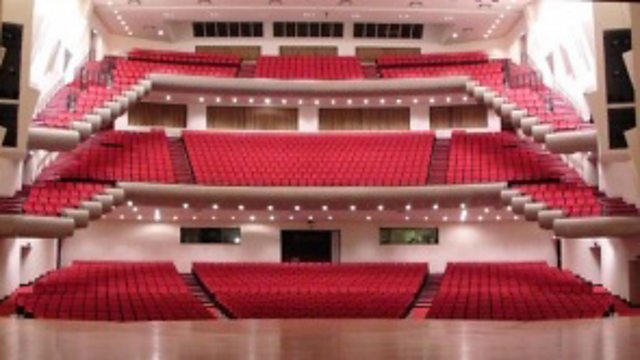 The Municipal Cultural Centre in Tainan
Speeches are made and thanks given by management and conductor at the end of what has been an enjoyable and very successful tour. That evening we repeat the previous night's concert to a similarly rapt audience at the Municipal Cultural Centre in Tainan. More Union Jacks are waved by the locals in
Pomp and Circumstance
and as the Malvern countryside disappears alongside Elgar's friends, it is time to banish homesickness and wave goodbye to the very friendly Taiwanese and make the long journey back to a temperate climate.
Due to an hour's delay on our flight to Hong Kong, we only just make the connection to London. Some unfortunates arrive home without their luggage but I am pleased to be met by my youngest daughter running to my arms at Heathrow. Great fun though the tour has been, there is nothing like coming home.
EPILOGUE
I did eventually ask Sir Andrew how many times he had conducted Enigma in the last 50 years; he said he hadn't counted... probably a wise move.