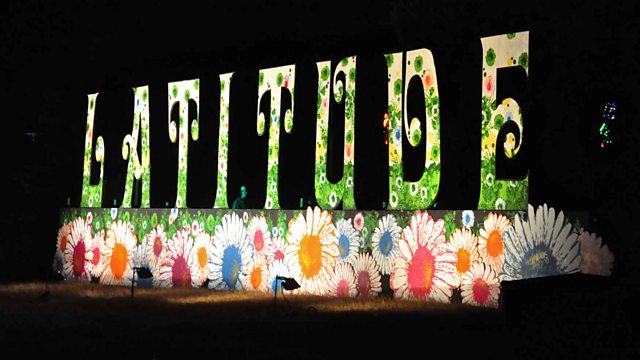 All this week on BBC Radio 3's Late Junction at 11pm, Max Reinhardt presents highlights from the Late Junction stage in the Lavish Lounge and exclusive truck sessions from the 2013 Latitude Festival.
Friday 19 July
00.45 Leave air conditioned Late Junction Studio at Broadcasting House and walk into the heart of the summer darkness( 'He felt the heat of the night hit him like a freight train..'). Resolve to sleep as soon as I get in...early start for Suffolk. Fail miserably...eat, drink, chat, listen, read for a couple of hours... the Latitude buzz has kicked in.
13.00 Finally arrive on site, 6 hours since we woke up. Keep motorways out of East Anglia... that campaign is definitely working. Whizz through security, passes, identification, justification, deification etc with surprising ease thanks to the Power of the Late Junction Team....trudge down dusty tracks... (can't help but wonder after previous two Latitude Fests, if this is Latitude where's the mud, wind and rain?)... past shiny happy people dressed for heat (no gorillas/cart horses/hairy mammoth costumes visible so far)... beats and bass lines swarming through the air all around.
Reach the BBC Mobile studio trucks, step in and I'm on! Straight into the middle of an interview with Yo La Tengo... Ira, Georgia and James all good laid-back company and for me, the first of the new discoveries I made at the fest. Oh help! all interviews on camera for website today and no make-up in sight. Couldn't stay to hear the two unplugged tunes they recorded from fade their current album... mental note must go to LJ website to hear the clips ... cos it was time to get down to our stage in the Lavish Lounge, 5 mins through the woods as the radio presenter flies.
Sometime later (time has ceased to be measured in hours and minutes) ...
Electric Jalaba
Time to greet our audience in the newly expanded Lavish Lounge, the surreal dreamscape in the woods by the lake that is to be home to the Late Junction stage for the weekend. The luxurious settees are full, people are lying, sitting and standing on the dry dusty ground waiting for the first band. That would be Spacey Gnawa Electronica from
Electric Jalaba
... a UK groovester brotherhood (Sound Species) transformed by their encounter with new member, Moroccan Maalem Simo Lagnawi and his guembri (or sentir), the ultimate organic bass instrument. In less than 5 minutes audience have also transformed from indolent sybarites into ecstatic  dervishes whirling to the karakeb (metal castanets). Quick  post-set interview with the band, all vibed up and totally believing in the power of their new music... an infectious belief.
Wander purposefully through the dust, crowds, slamming bass lines and babble of voices from comedy, literature and poetry tents over to backstage area of BBC 6 Music to interview Richard Thompson. Any worries about what to ask such a maestro disappear when we meet him cool and calm in the heat of a trailer, sitting on a sofa with a guitar, a smile and wise twinkling blue eyes. Should have asked him what he thought about the Observer review of his recent CD Electric 'introducing a "new genre: folk-funk"; it showed that, over 40 years into his career, Richard is only just getting started.' Best of all he played an exquisite finger picking miniature... as you'll hear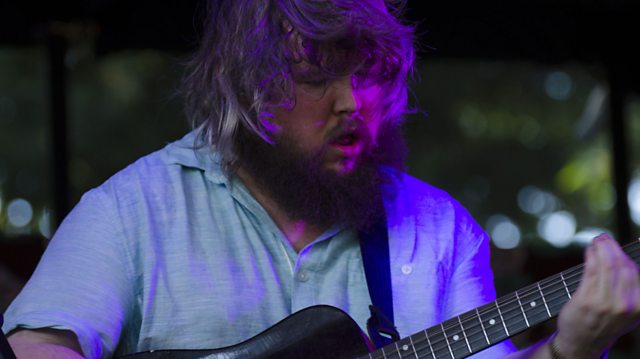 Richard Dawson
... the whole Richard Dawson experience was just a still continuing revelation. I met him just before he went on stage... friendly, chatty, calm, taking it all in... but nothing prepared anyone for when he came on stage to do his 6pm set. Sure I'd played his new CD
The Glass Box
- steeped in Tyneside law, legends and archival tales... but nothing prepares you for his all-consuming elemental voice, his devastating deadpan humour and his Joseph Spence meets Antennae Jimmy Semens guitar style. Having dazed and converted the crowd to Dawsonmania, he joined me in the Studio truck to create more video treasures/trash for posterity. Richard is certainly one of the major revelations  of our stage here
... so Yo La Tengo were Velvet Underground link #1 (they played the Velvets in I Shot Andy Warhol... and Lemon Jelly's Nick Franglen was link #2 (John Cale's accompanist and Nico's tribute curator), a v. affable host as he showed us round his Hive installation -a tsunami of radio broadcasts ...
... totally bonkers end to first day with the Melt Yourself Down 11 pm set which filled the Lavish Lounge with over 1000 delirious pleasure seekers totally hooked by the jazz punk world gestalt of MYD. Lauren Laverne commented they were 21st C Pig Bag, the crowd manically moshed non–stop and, given that the rest of the live festival had closed down, our Late Junction Stage became the Latitude main stage for an hour, as the moon rose over the canopy of trees that cradles the Lavish Lounge.
Producer Peter Meanwell writes: On Tuesday night's Late Junction (23 July) there were live sets from Melt Yourself Down, Richard Dawson and Electric Jalaba, as well as Yo La Tengo in session and Richard Thompson in interview. Tonight (24 July) we have Troyka, Flower-Corsano Duo and Walls vs Daphne Oram, with Matthew E White and Coco Rosie in session, and Bobby Womack in interview. On Thursday (25 July) Max presents live sets from Graveola, Nancy Elizabeth and Anna Meredith, plus Late Junction truck sessions from Bassekou Kouyate and Stealing Sheep.
You can listen to the programmes by following this link.
You can follow BBC Radio 3's Late Junction on twitter @bbcradio3 #latejunction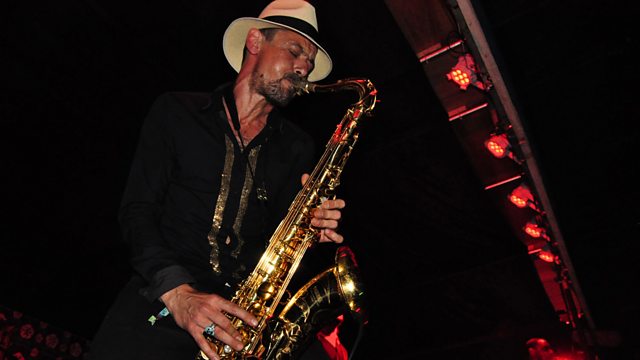 Pete Wareham from Melt Yourself Down