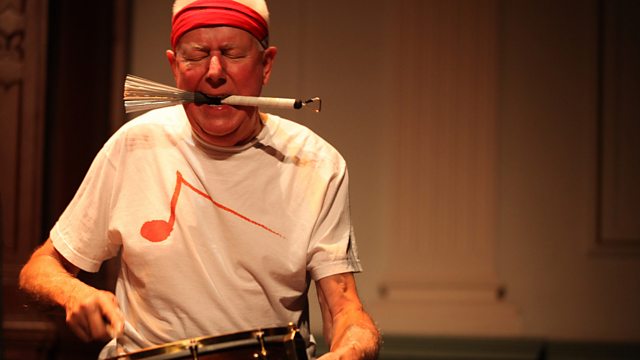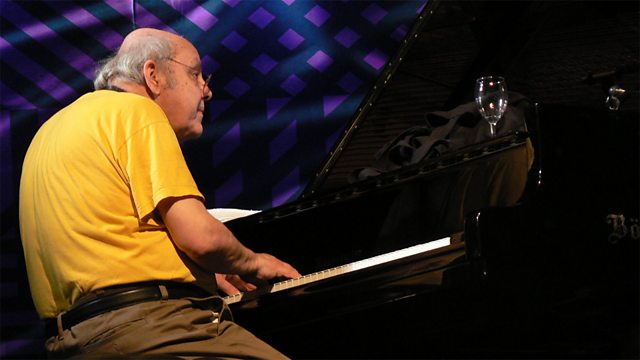 Prepare for a spectacle of mischief, surprise and spontaneous invention, as on Monday
Jazz on 3
welcomes one of the world's longest-running improvising groups,
the Instant Composers Pool Orchestra
. For more than forty years Russian pianist Misha Mengelberg and Dutch drummer Han Bennink have led the ICP on a joyous journey that has helped shape the sound of European jazz. Our recording is of the last day of a rare UK residency – I was lucky enough to be there and there was a real sense of event and celebration.
It was occasional member Evan Parker, who brought the ICP to London as part of his Might I Suggest? festival at the Vortex. Mengelberg's appearance was even more poignant as his live performances have sadly become more and more infrequent due to illness. Though, as his second-half dep Steve Beresford explains in conversation, the pianist's musical ability remains unhindered – his touch precise and delicate, whilst he knows exactly when to play "the wrong chord at the right time." Han Bennink's playing at the kit is as athletic and characterful as ever, and before the gig you'll also have the opportunity to hear him in conversation with Evan Parker, taking a look back through ICP's vast catalogue in an insightful and at points hilarious interview.
The band move through brewing improvisational passages to joyous off-kilter swing renditions of pieces by Herbie Nichols and Thelonious Monk. It's a masterclass in celebrating the tradition whilst creating something new.
Tune in on Monday from 11pm or listen online for seven days after the broadcast
If you have comments about the show, or requests for music you'd like to hear, do get in touch at jazzon3@bbc.co.uk or on twitter at @BBCJazzon3
Pictures: At the top, Han Bennink by tom.beetz. Misha Mengelberg by Andy New. Some rights reserved.