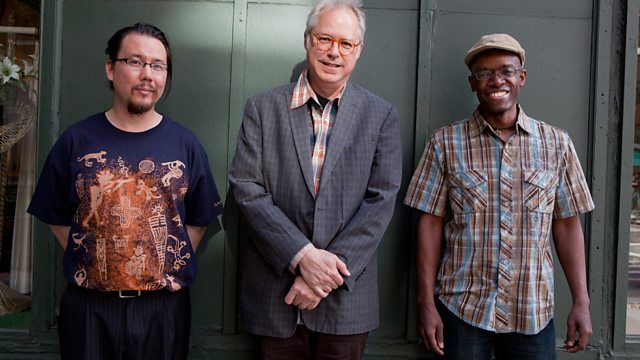 Bill Frisell's Beautiful Dreamers Trio
This week's programe features one of my all-time favourite jazz guitarists – Bill Frisell – recorded at one of my favourite jazz festivals: Cheltenham. We couldn't resist giving you a second chance to hear this performance from last May which aptly demonstrates why Frisell is still regarded as one of the most relevant and sophisticated players today. He is joined by Eyvind Kang on viola and Rudy Royston on drums to complete the Beautiful Dreamers Trio.
Any Frisell band is going to put the exploration of texture fairly high up its to-do list, and this is no different. The impressionistic opening to Lennon & McCartney's In My Life is a prime example – delicate drum washes and faintly Eastern-sounding viola lines, over which Frisell judiciously dabs colour, before the tune subtly reveals itself. There's clearly a lot of scope for freedom and spontaneous interplay, which makes all the precision of timing and sound-production all the more remarkable. But don't think it's all going to be a gentle ride – Frisell's bluesy, almost grungy and even psychedelic side comes out at times, and get ready for a blow-out climax to the performance!
Frisell's love of strings has been increasingly apparent in recent years and, before we hear his gig, journalist Brian Morton tells us why he thinks it's a golden era for strings in jazz more widely, with contributions from viola player Mat Maneri and cellist Fred Lonberg-Holm among others. And to end the programme, a hidden gem from Austin Texas – Bob Hoffnar reflects on the place of the pedal steel guitar in jazz today.
Join me for this memorable performance on Monday 11 March from 11pm, or listen online for seven days after broadcast.
Jez
If you have comments about the show, or requests for music you'd like to hear, do get in touch at jazzon3@bbc.co.uk or on twitter at @BBCJazzon3.