Free Thinking 2013 at Sage Gateshead - day two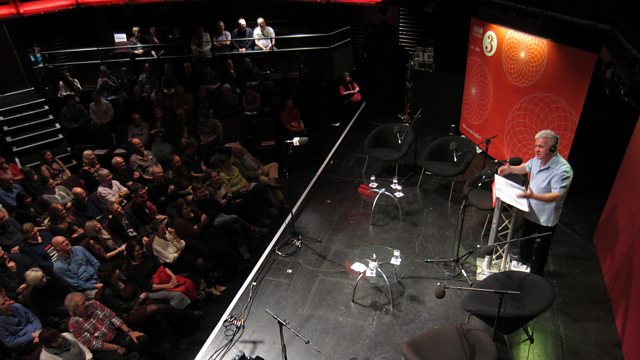 Ian McMillan warms up the crowd for 'The Verb' at Free Thinking 2013
Music Matters
What was my first reaction on seeing the panel for Music Matters on Saturday? Exasperation and disappointment. The topic is 'Who's really in charge of today's music world?' and five people on the podium, four of them men. Thank goodness for hard-hitting composer's advocate Susanna Eastburn, CEO of Sound and Music. Particularly interesting was learning from Gabriel Prokofiev of the practical problems facing someone wanting to break out of the traditional mould of classical presentation. From funding to audience involvement, there was abundant material for in-depth discussion here and it was a shame not to have an extended edition of the programme for this live broadcast and time for some audience questions as well. Listen to or download the programme on the Radio 3 web site.
Controlling Moods and Minds: Depression and Smart Drugs
Very well-moderated by Rana Mitter, this was my highlight of the Free Thinking Festival so far. A thought-provoking discussion of a topic touching the lives of many. Having the journalist and author Clare Allan on the panel as well as two medical experts, gave a valued and refreshingly honest insight from someone who has dealt with issues of mental health. Anyone considering taking 'smart drugs' to enhance their brainpower should make sure they catch the comments from Professor Barbara Sahakian on this programme. Her answer to whether she'd take them herself certainly surprised audience and panel alike.
How on Earth can we cope with less?
I'd never really considered the implications of what 'scarcity' means in a sense wider than not being able to buy the shoes or concert tickets I want because they are out of stock or sold out! Free Thinking always provides an opportunity to delve into something out of our  'comfort zone' and this discussion epitomised that principle. Considering such matters as: whether scarcity can be liberating, or whether it can legitimise a set of ideological processes with three eminent university professors on the platform is one guaranteed way to rouse the lesser-used parts of one's brain. However as often happens at Free Thinking, the killer quote came from our presenter Philip Dodd by way of Godot: "What do we do now we are happy?" Well worth a listen at 10pm on 31st October.
Words and Music
Always one of my favourite Radio 3 programmes and always a highlight when there is a chance to watch a live recording of this juxtaposition of a myriad of composers, writers, styles and emotions. Excellent performances from musicians and readers alike, with an especially familial contribution from Inspector Morse star Kevin Whately, his wife Madelaine Newton and their mezzo-soprano daughter Kitty Whately - a BBC Radio 3 New Generation Artist. Combine that with folk maestra Kathryn Tickell and the Leonore Piano Trio; throw in Shakespeare, Sondheim, Shostakovich and much more... go and listen this afternoon at 5.30pm or later on-demand.
The Verb: Letting go is good for you
Ian McMillan should be declared a National Treasure and 'The Verb' made compulsory listening for all GCSE English students. This romp through the English language is even more fun when you can be at a live recording. Audience participation – we had to practise really hard and woe betide us when we got it wrong – evocative ballads from singer/songwriter Nadine Shah, a poem written while we listened by Kate Fox and much more. This celebration of the power of words perfectly rounded off a day of intense, challenging, provocative and fun Free Thinking. One last day on Sunday, bring it on! Listen next Friday at 10pm.