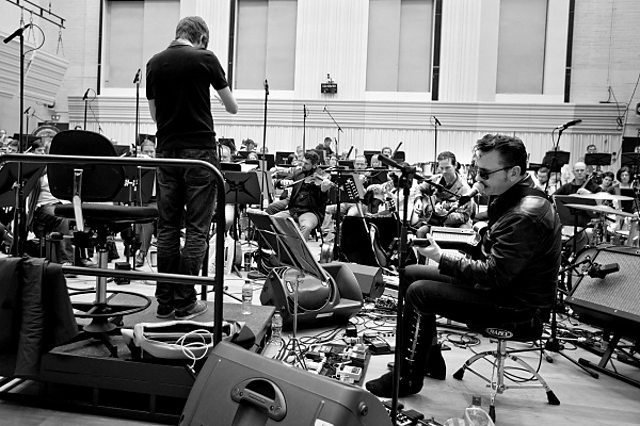 Richard Hawley and Joe Duddell rehearse with the BBC Philharmonic. Photo: Simon Pantling.
General manager Richard Wigley introduces the next BBC Philharmonic Presents event
The original thought behind the first festival came to me during a run along the Bridgewater Canal; was it possible for the BBC Philharmonic to appear on all the BBC's national radio networks in a three week period? It was and we had such a ball doing the first festival that a warm wind has been blowing behind the idea of another one.
I loved that so many people, many of whom don't normally listen to orchestras, were wowed by the power and emotion of 90 musicians in a musical context that they found familiar.
For the next festival we are going to spread the live experience across the north of England in keeping with the vision for BBC North. We're taking the orchestra from Bridlington to Blackpool via Bradford, Salford and Sheffield with some of the best loved and most creative artists and producers in the UK. We begin on BBC Radio 6Music (Station of the Year don't you know) with Sheffield's own Richard Hawley and his band. They've teamed up with composer Joe Duddell (a Salford boy through and through) to create an intriguing evening in Sheffield. Richard has formulated for the first time a collaboration for his own band with orchestra that will set the standard for the whole festival.
Second up is Radio 5 live on Friday 14 September with Simon Mayo and Mark Kermode. Our great 5 live colleague Rhian Roberts has been an inspiration for us and we both agreed that Simon and Mark's show in the first festival was outstanding; so we've created another film special this time featuring the music of James Bond. Rhian then coordinated Radio 2 (for a 'spy classics' Friday Night is Music Night), Red Button (to create an hour long show) and Radio Times (to run a vote for the nation's favourite Bond theme).
George Ergatoudis at Radio 1 had the vision to combine the Phil with Nero last year and thereby created a storm of interest that continues to this day. This year he's attracted The xx for a similar journey (in Bridlington) for a live Zane Lowe show on Wednesday 19 September. Young composer Alex Baranowski was their exciting choice to generate the orchestra score and he's been regularly attending the orchestra's concerts (lately our Bruckner Prom) to hear what they can do. I know he's thinking hard about the different effects that he can use to create a special sound for the band.
In the first festival we worked with ace West End conductor Mike Dixon on a musicals evening for Radio 2; Mike was a huge hit with the Phil musicians and I was determined that we should work together again; he proposed a wide range of projects and the one that was perfect was Miles Davis orchestrated by the hugely talented Guy Barker with Guy's Jazz Orchestra. We're taking the show to Blackpool on Wednesday 17 October and it'll be live on Radio 3. Guy calls me regularly to update on his thinking and I know that he's written a 25' 'Kind of Blue' suite that promises to be iconic.
I'm particularly pleased that we're working with the Asian Network in Bradford (Monday 12 November) for the first time. Asian Network's Neila Butt has proposed a celebration of the life and songs of Pakistani singer Noor Jehan. Although she died in 2000, her recordings are a powerful testament to her artistry and we'll honour that legacy with the full orchestra performing alongside a group of remarkable Pakistani musicians.
Our Radio 2 date, Thursday 6 December, is so high profile it's a secret that I can't share with you….yet. We're really buzzing that we'll be working with these superstars in our studio; they came to hear Nero with us last year and were so taken with the studio that they insisted we use that for this project.
Our last event is one that is close to my heart; for the past few months Radio 4 have been broadcasting editions of The Listening Project which are highly personal conversations. Radio 4 commissioner Tony Phillips has asked producer Cathy Fitzgerald to draw together a range of these conversations around which composer Gary Carpenter can create a live orchestra score lasting half an hour. Life won't be the same after this one.