This week Jazz on 3 explores the fruits of the Channel Tunnel, via Cheltenham. No, I'm not talking romantic Parisian getaways, rather a different meeting of cultures as the metropolitan sound worlds of London and Paris are brought together by Barbacana – a quartet led by guitarist Adrien Dennefeld along with the omni-present keyboardist Kit Downes – who for me were an unexpected treat at this year's Cheltenham Jazz Festival.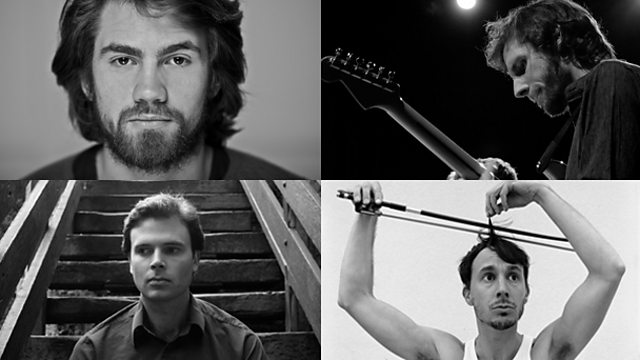 Reedsman James Allsopp and percussionist Sylvain Darrifourcq complete the Anglo-French line up, which admittedly I had heard little about before practically stumbling upon the gig. However it didn't take long before I was completely drawn in by a mesmerising set of murky soundscapes, instinctive improvisations and slowly building riffs. On pieces such as 'Migration' and 'Animation' you'll hear how grooves gradually construct and deconstruct through the fuzz and swamp of Downes' organ, with Dennefeld's overdriven guitar squawks and Allsopp's runs adding intensity to the climbs. Darrifourcq features impressively on the extended intro to 'Steam', where his distinctive and experimental percussion style conjures sounds of tinkering metal work and a hubbub of glitching electronics. Allsopp's woody bass clarinet tone adds an earthy quality to the swelling themes of 'Adobes' before the band segue into a twisting rhythmic frenzy on the eponymous closing track, Barbacana.
Later in the programme we discuss one of the most enduring jazz musicians in the history of the music: Duke Ellington. But what is it about the famed composer and big band leader that continues to inspire such a huge variety of tributes today? Well, after speaking to a number of musicians and Ellington devotees, we think a closer look at his piano playing might just hold the key.
Join me for this programme on Monday 1 July from 11pm, or listen online for seven days after broadcast.
Jez
If you have comments about the show, or requests for music you'd like to hear, do get in touch at jazzon3@bbc.co.uk or on Twitter '@BBCJazzon3'.
In a final news bulletin, we are happy to announce that the ticket ballot for Jazz on 3's BBC Introducing show at Manchester Jazz Festival is now open. The performance on the 26 July will feature four upcoming bands who have who have been selected after submitting their music via the BBC Introducing uploader. For more information and to apply for tickets, click here.