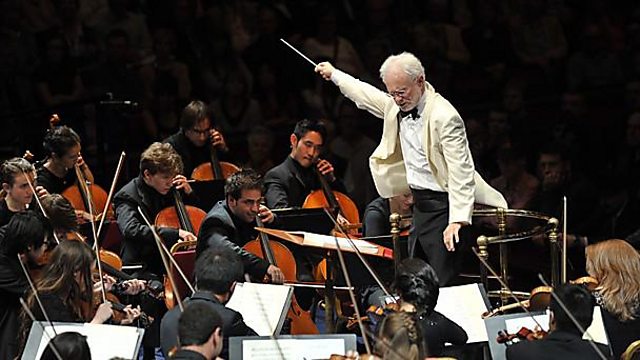 John Adams conducts at the Proms
BBC Symphony Orchestra sub-principal viola Phil Hall reports from John Adams's rehearsals for the opera Nixon in China at the Proms.
John Adams is in his happy place. I can always tell; he starts swinging his hips to the beat, eyes closed and smiling as if lost in the groove he has created. Indeed a lot of the time his opera Nixon in China is more groovy than a '60s LP and John clearly enjoys conducting his 25 year-old masterpiece. The style of music may seem a bit incongruous given the serious political subject matter but the opera operates on different levels simultaneously and incorporates humorous moments alongside the sad, and dance routines in with Maoist ideology. Similarly one hears influences of Wagner and Stravinsky next to Duke Ellington and Glenn Miller clothed in 1980s' Minimalism. It's infectious too as I see smiles on many players' faces. 'I gave up Minimalism after this,' ohn admits sheepishly. 'I had wrung all I could out of an E flat major chord...'
It's always a pleasure collaborating with John. He brings so much enthusiasm and energy to rehearsals and concerts but is also insistent on getting things exactly how he wants and that includes making changes to his composition as he goes along: 'After 25 years I have decided I don't like this bit ... can I try it without the bass clarinet? Nothing personal you understand...' He makes other small changes to the orchestration and also to what he is beating. At one point, half way through rehearsals, John stops, shakes his head and says the words every orchestra likes to hear: 'You know, I've done this piece a lot, even with the wonderful Met Opera orchestra, but you guys are just incredible, you have the steepest learning curve.' But then he continues: 'This is like a New York Times review - having said all that, I'd like to run the second Act again...'
When composing this unusual opera in the 1980s, John considered that the music nearest to the soul of the Nixons would be Glenn Miller. As a consequence the orchestra is more of a big band with a string section (we are particularly enjoying that rare orchestral beast, the baritone sax, which adds real punch to the proceedings). But being a late 20th-century opera, the scoring also contains two grand pianos, a synthesizer and a lone, overworked percussionist, Alex Neal, who is surrounded by about a thousand (give or take) instruments. John addresses him: 'Alex, can you give me the horse rhythm please?' (Alex duly beats out a galloping da-da-dum da-da-dum, à la Lone Ranger on his legs with his hands, giving a passable impression). But John isn't convinced - 'Hmm, the pitch is too low...can you wear tighter pants?'
That's something I never thought I'd hear in a rehearsal!
John Adam's Nixon in China is broadcast on BBC Radio 3 at 7pm on Wednesday 5 September, and is available for seven days on the BBC iPlayer.