BBC Symphony Orchestra sub-principal viola Phil Hall always has a ringside seat close to the conductor at concerts and rehearsals. Here, Phil reports from the rehearsals for last Friday's BBCSO concert at the Barbican.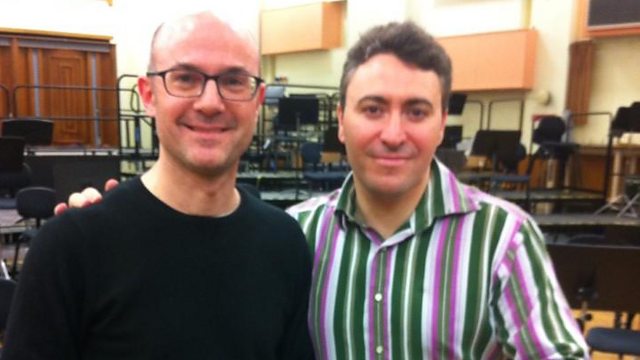 Guest leader Simon Blendis and Maxim Vengerov Photo: Mark Millidge
When it came to the orchestra's attention that the great Russian violin virtuoso Maxim Vengerov would direct Rimsky-Korsakov's
Sheherazade
from the violin, my curiosity was aroused. Not because I doubted Vengerov's musicianship or talent but because I had never heard of any violinist attempting this extraordinary juggling act. Not that surprising as it turns out since, as Maxim claimed, no-one has done it since the great Belgian violinist Eugene Ysayë a hundred years ago.
Maxim began the rehearsal with an apology: 'I must say sorry to Simon our concert master for stealing his beautiful solos.' But as soon as he launched into the first solo there are smiles all round as his big, passionate Russian sound heated up the chill of Maida Vale Studio 1. Maxim was a pleasure to rehearse with – a very big-hearted, charming person, constantly addressing the orchestra as 'friends' with names of principal wind players written into his score above their solos. A small gesture that means a lot. By turns he directed with his hands, baton, violin bow or just a nod of his head.
Maxim has spent the last three years on a sabbatical studying conducting in St Petersburg with Vag Papian and Yuri Simonov, but has developed a style all his own. He takes broad tempi because, as he recently admitted in an interview in the Daily Telegraph: '...we used to be right to use slower tempi...to feel the space between the notes'.
In rehearsal was a cute 'Lost in Translation' moment; ever courteous Maxim addressed our second clarinet: 'Peter, you must play like over-the-hill.' Titters all round until guest leader Simon Blendis gave Maxim the meaning of the idiom. 'No!' he exclaimed, 'Sorry, I didn't mean that! I meant in the distance, far away.' We string players were glued to his amazing bow arm and he gave an object lesson in how to play the theme of the slow movement. We didn't want him to stop demonstrating.
In the second half of the Barbican concert last Friday, Vengerov strode boldly on to the stage, Stradivarius and baton in hand, and a full house held its breath. I was holding my breath too as he seemed to leave it to the very last second to put down the baton and pick up his violin from the table just in time. Occasionally there were moments of Svetlanov-like expansiveness and some eyebrow gestures and smiles worthy of Rozhdestvensky. Moments too of complete uncertainty when his back was turned to play the solos ‒ (how the wind players placed their chords I'll never know) ‒ but it was an exciting ride for the orchestra, like playing giant chamber music. One of those concerts to tell the grandchildren about, if I ever have any…