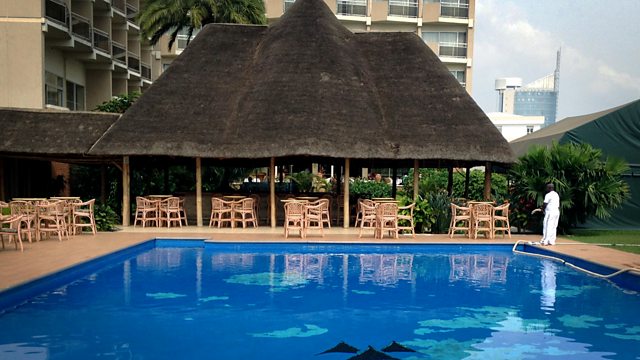 RWANDA
The Milles Collines Hotel in Kigali is known around the world as the 'Hotel Rwanda' of the 2004 film. The powerful story of hotel manager Paul Rusesabagina, who sheltered more than a thousand refugees from the genocide - it all happened here. Now, like the rest of Kigali, the hotel is beautifully restored, thanks to generous international aid from a guilty world. The hotel is now far too posh for the likes of a BBC producer to stay in, but offering a fine poolside bar to relax by, after a hard day spent listening to lovely music. And every Friday night, the bar comes alive with the sounds of one of the bands in this week's Commonwealth Connections, Gakondo.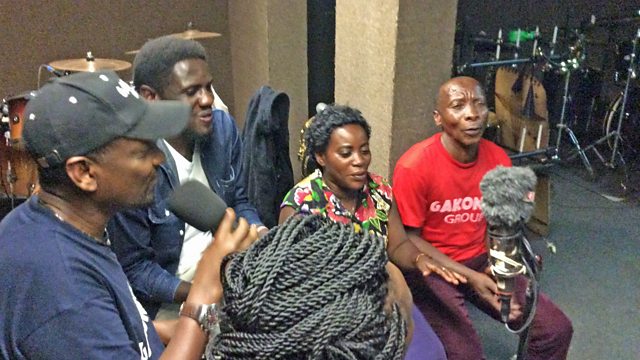 Gakondo
For anyone who has seen 'Hotel Rwanda', or read about the events of the time, it's an understatement to say that Kigali is not what you'd expect. I arrived there from Malawi, where we had been strongly advised never to go out after dark, certainly not alone or in small groups. The same was even true of the affluent areas of Johannesburg. On the evening I arrived in Kigali, my fixer suggested we should go to a restaurant to plan the recordings. I was about to order a taxi, but she said there was no need for that. So we walked for a kilometre through brightly-lit avenues, past houses without fences, in perfect safety. The people who suffered so much twenty years ago are welcoming, friendly, happy to talk and share their lives. There is just one subject that is totally off limits – and that is which ethnic group they belong to. 'We are all Rwandans now' is something I often heard people say.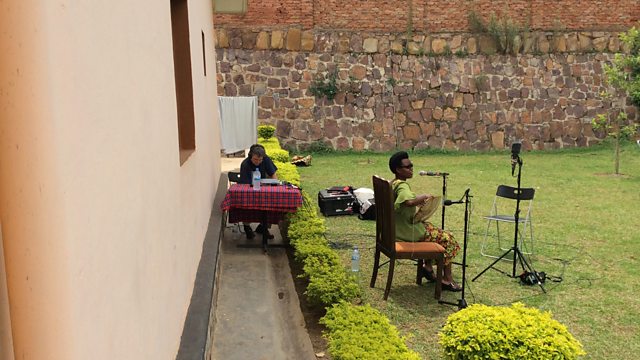 Roger Short recording Sophie Nzayisenga
Everyone over the age of 25 has a story to tell. Such as Sophie Nzayisenga, the brilliant player of the traditional 'inanga', who was 15 when the genocide started – she was with her father in Kigali, and when members of the family started being killed, they escaped from the city and headed for their family village where they were sure they would be safe. Of course, when they arrived, all was gone. Or Massamba, the lead singer of Gakondo, who grew up in exile in Burundi, and was drafted in to help to motivate liberating forces by singing his songs. In Rwanda, the 20th anniversary is seen not as a commemoration of the genocide, but rather a celebration of the country's liberation.
Traditional music is enjoying a real revival in Rwanda now. This music looks back to the time of the Rwandan kings, a golden age for the country, before the genocide, before colonialism, when Rwanda had a distinct art and music that brought people together and gave them a common cultural identity. They are hoping that local music can do the same for them now.
There are still those who would like to see Rwanda in chaos again. A week before I arrived, there had been a rumour that Rwandan President Paul Kagame had died – and there was dancing in the streets in parts of neighbouring Congo. To show that the stories were premature, the President decided to show himself in public - and he turned up unannounced at the Milles Collines, Friday night, dancing in his shirt sleeves to the music of Gakondo.
Roger
Commonwealth Connections is broadcast on BBC Radio 3 as part of World On 3 (Friday 11pm-1am) the series runs until the Commonwealth Games in Glasgow this July.