Robert Worby looks ahead to next Saturday's broadcast of Hear and Now
The first electronic music
In the mid 1950s, at the WDR radio station in Cologne, a group of composers began working on the idea that new sounds, and therefore new music, could be made by combining, mixing and fusing together pure tones called sine waves. These tones can only be made electronically and the work done by these composers paved the way for the explosion of electronic music that is now so commonplace we don't even notice it. Their work began at around the time of the invention of the 7" 45rpm vinyl record, decades before the invention of the synthesizer, desktop computer or iPod.
When these composers began making this new music the few electronic musical instruments that were available made unsatisfactory sounds so they turned to the devices being used to test the equipment at the radio station. These were laboratory tools - oscillators, filters, impulse generators, and different types of amplifiers - still used today to measure audio equipment. Their oscillators produced sine waves, the eerie whistling tones heard in 50s sci-fi films; filters are sophisticated versions of the tone controls found on radios, televisions and hi-fi; impulse generators make electronic clicks and amplifiers shape the loudness of sounds. With these simple resources this group of pioneering composers began to make sounds that had never been heard before.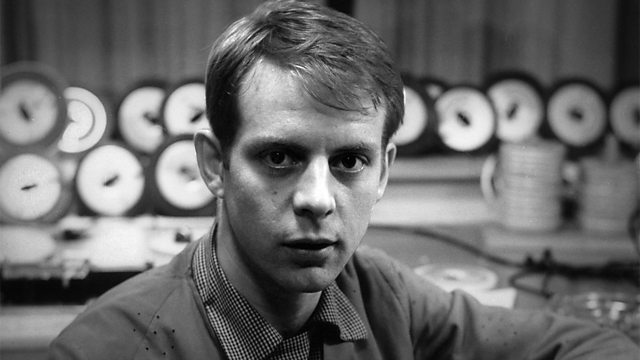 Karlheinz Stockhausen
The composer from this group who made the biggest impact in the 20th century was Karlheinz Stockhausen and his piece Gesang der Jünglinge, composed in 1955/56, is considered by many to be the first masterpiece of electronic music and it's considered by some to be the finest piece of electronic music ever!
At the time of composing this work Stockhausen was a devout Catholic and his original idea was for a mass that included voices and electronic sounds but the church authorities made it clear that loudspeakers were unacceptable in their sacred building. Despite this setback Stockhausen decided to set a Biblical text, the Burning Fiery Furnace, from the Book of Daniel.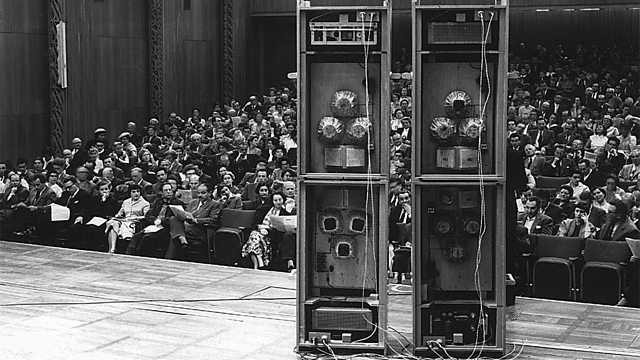 Making Gesang der Jünglinge
This passage was cut into phrases, words, syllables and phonemes which were sung by Josef Protschka, a 12 year old chorister. These fragments were edited further and formed into, what Stockhausen called, 'swarms' of voices which were combined with electronic sounds created using the extremely primitive studio tools.
This whole process was extremely laborious and it took well over a year to make a piece that lasts just over 13 minutes. Stockhausen had two or three assistants each performing separate tasks: one controlled the speed of clicks on the impulse generator, another turned dials on the filter and a third controlled the overall volume of the resulting sounds. They recorded again and again until the contours of the swarms were exactly right. Some of this material would be processed with reverberation - created by a large metal plate or sometimes a cavernous room underneath the studios - projecting the sounds into vast, empty space.
All of these results were spliced together onto audio tape and then several tapes would be mixed onto one to create even more complex material. And so bit by bit, centimetre by centimetre, Gesang der Jünglinge was formed. It's actually unfinished. Stockhausen planned seven sections but there was time to complete only six. When, in 2001, I asked him why he didn't finish it, he pressed his lips together then said, in his inimitable Cologne accent, 'They wanted a concert.' A date had been scheduled and when that date came he presented work in progress. And so it has remained to this day. Right at the end of the piece, there's a moment's silence followed by a final burst of electronic sound. This final burst is the beginning of section seven.
Gesang der Jünglinge today
Almost 60 years after the piece was first performed Gesang der Jünglinge is still a crucial reference point in electronic music and is studied by discerning listeners, scholars and students all over the world. Sean Williams is one of those studying the piece. He's a Leverhulme Research Fellow at Edinburgh University and he might be described as a musicologist with a soldering iron.
Sean has been to the WDR studios in Cologne and tracked down the equipment that Stockhausen used to make the piece. He's acquired similar equipment and is recreating some of the sounds Stockhausen made in 1955/56. Although there is no score for Gesang der Jünglinge there are hundreds of pages of notes and sketches that show how the work was made so Sean has a very good idea of how to produce the necessary sounds.
A recreation of the sounds of Gesang der Junglinge
In addition to this he has been studying the 40+ tapes, from the original recording sessions made in 1955/56, to make the links between Stockhausen's diagrams and sketches and the sounds that he eventually recorded on tape.
Juan Andrés Verdaguer is another scholar fascinated by this piece. He's currently building a website that shall include an app enabling Stockhausen's sounds to be made digitally.
Hear and Now. BBC Radio 3. Saturday 19 October. 22.30hrs
All of this comes together in the edition of Hear and Now broadcast on Saturday 19 October 2013. The programme focuses on a weekend of concerts given at the Southbank Centre, in London, as part of their 'Rest Is Noise Festival'. There are works by Luigi Nono and Karlheinz Stockhausen including Gesang der Jünglinge.
Sean Williams is my studio guest and talks us through the piece. Not only this, but we have received permission from the Stockhausen-Verlag to broadcast short examples from the tapes that Sean has been studying. These tapes have never been broadcast anywhere in the world and only a handful of people have heard them. For the first time ever, listeners can hear how this astonishing masterpiece was put together. A real scoop for Radio 3!