It's been 20 years since Between the Ears first broadcast and we've invited producers, composers, sounds artists and supporters to talk about their involvement celebrating adventurous and innovative radio. In this first blog, BBC producer Sara Jane Hall, who has won two Sony Awards for Between the Ears programmes, explains why she loves making features for this Radio 3 strand.  Producer and writer Tim Dee has worked for Radio 3 and Radio 4 for 25 years; his most recent book is Four Fields, and here he writes about sound art. You can listen to vintage editions of Between the Ears across the 20-year history of the programme, by following this link.
Sara Jane Hall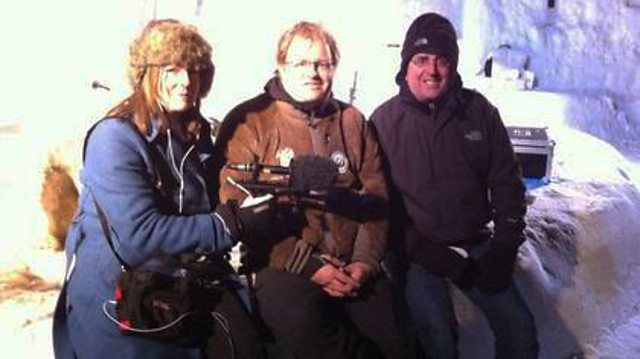 Sara Jane Hall on location in Norway for a Radio 4 documentary, with Ice Festival organiser, Pal Medhus and presenter Richard Coles
"Sometimes being a radio producer is a very cold job.
I'm standing in light snow, frozen hand and microphone outstretched towards a bundled-up figure, coughing lightly on his roll-up, outside the high prison walls of Pentonville. He's a man that my presenter, Alan Dein, has just stopped to ask what he thought of the proximity of the prison to residential houses,  the idea behind
Staring at The Wall
. 'I was in there,' he replied, and like the Ancient Mariner (as one radio critic later put it), he was off – a non-stop stream of consciousness – his court case, the judge, his wife, the smell, the sounds …  and I knew we had to stay, silent, shivering, sharing the moment, to capture it. 
"Behind me I could hear the trains coming and going from the nearby station – my warm flat somewhere down the line.  It was one of those moments when you know the idea is going to work – you are tapping into a story, and a voice, you couldn't make up.
"There is nothing more boring than starting a feature knowing exactly what it will sound like. To make a Between The Ears, however, is exciting because you know you have been given permission to take risks – with sound, with content, with style.
The rules of radio still apply – good stories keeping the listener's interest.
"Between the Ears offers the opportunity for a bit more flexing of those rules. Its reputation for experimentation, and a dedicated audience in search of sound adventures, means that reality and fiction can blur happily.
"When David Bramwell, presenter of The Haunted Moustache, first pulled out a box containing an unlikely inheritance – a small waxed moustache – I decided not to ask if it was real, or how much of his tale was true. Remarkably neither did anyone else.  It was a game between us – don't ask, don't tell –  and the final programme was a riddle for the listener – soothed by David's haunting music.
"As we sat beneath a naked, life-size statue of a copulating Pan, a tin of biscuits on the table in front of us, and a psychic from Crawley on the sofa, David joined in his own mystery, exclaiming:  'My left hand's gone cold!'  Sometimes being a radio producer may be cold, but nothing warms you up like finding the sounds you never imagined."
 
Tim Dee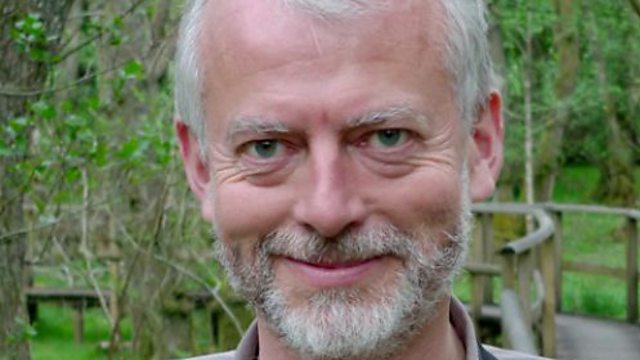 Tim Dee
"As recently as 20 years ago the idea of sound
art barely existed.  Nowadays sound artists win the Turner Prize.  But for as long as radio has been around, its producers have been making, both consciously and accidentally, many programmes that might also be considered sound art. Louis MacNeice's radio dramas might have counted, so too the radio ballads of Charles Parker and Ewan MacColl, and Dylan Thomas's
Under Milk Wood
.  But so might some more apparently casual documentaries that eavesdropped on miners coming up to the surface of a pit or the banter of a cattle auction in south Devon. 
"We could try to ascertain what links these varied programmes: no one definition will do but I would point to them having being made from stories that are told in sound that is either naturally sourced or written with the kind of lyric compression that harnesses the imagination, neither of which are like the steady and even pace of a more 'conventional' radio programme.
"Step forward then Between the Ears, Radio 3's magical cave of sonic adventure.  For 20 years, while the art world outside got interested in the creative possibilities of sound as a new language the programme has been quietly (mostly, with several stops to collect major international prizes along the way) ploughing the possibilities: getting poets to think about machine noise, harnessing the wind, tying microphones to wire fences, collecting old answerphone messages, rummaging around in the unofficial sound archives that almost everyone of us has, enjoying the patina of ages, making people cry with the scratches on old vinyl and on snatches of homemade mix tapes on cassettes rescued from the verges of motorways, believing that god might be audible in a bullfrog... 
"Because it gets so thoroughly and adventurously inside the head, Between the Ears is the programme every producer wants to make, the place they might put their deepest most heart-felt ideas, the place where the radio producer gets to be an artist not just the facilitator of clean lines of communication, the place where they are granted their very own director's cut.  Not that the programme is as self-indulgent as this might imply, it works within the mixed and highly (and well) managed output of Radio 3, but the minutes awarded to both producer and, if things have gone well, to listener, ought to sound like a ladder let down from the stars and a route map on how to climb back up to them."