Eighteen years since its inception, New York's Vision Festival continues to inspire and excite as it fearlessly casts the spotlight on some of the most progressive music coming out of the city. Two standout performances from this summer's edition are the focus for this week's Jazz on 3: drummer Tomas Fujiwara and his group The Hook-Up alongside a set from bassist Eric Revis and his trio.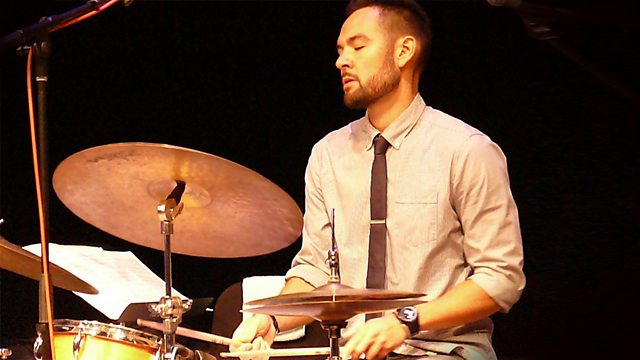 The Hook-Up are a close-knit group, comprising musicians synonymous with Brooklyn's improv scene over the past decade or so. Fujiwara is joined in the back line by bassist Michael Formanek who propels the opener 'Solar Wind' with an angular riff to accompany a driving New Orleans-style groove. Tenor player Brian Settles launches into the solos with searing post-bop language before passing to Jonathan Finlayson on trumpet as the form and feel opens. In 'The Comb', long lamenting lines conjure American spirituals while guitarist Mary Halvorson lets loose with overdriven abandon.
The set from Eric Revis and his trio astounded me when I first heard it. The sometime Branford Marsalis Quartet bassist commands an explosive band featuring veteran drummer
Andrew Cyrille
alongside pianist Kris Davis. For me it was Davis who really stole the show, playing with a sense of urgency and propulsion throughout that was nothing short of jaw-dropping. Think of a high-energy amalgam of Cecil Taylor, Matthew Shipp and Jason Moran and you're in the right territory. In the first piece, tension quickly builds through her fast and frantic improvisations with Revis and Cyrille catching every twist and turn. In the second tune the trio call on different sounds, with Cyrille leading with woody rim clicks and cowbell clocks.
Also on the programme, New York Times critic Nate Chinen joins me to share a selection of new releases that are making an impression stateside, including tracks from British ex-pat Dave Holland, and a band who have come from nowhere but really impressed me, minimalist trio Dawn of Midi.
Tune in from 11pm on Monday 30 September or listen online for seven days after broadcast.
Jez
If you have comments about the show, or requests for music you'd like to hear, do get in touch at jazzon3@bbc.co.uk or on Twitter '@BBCJazzon3'