In celebration of Between the Ears at 20, here are more words from those involved with the programme including Ian Gardiner who composed the score for the first ever outing in 1993, which won a Prix Italia and Sony Award. First up is Julian May, the award-winning radio producer who has made many Between the Ears over the years and reflects on making 'On the Rubble of my Home I Played my Flute' about the musician and cook Guo Yue.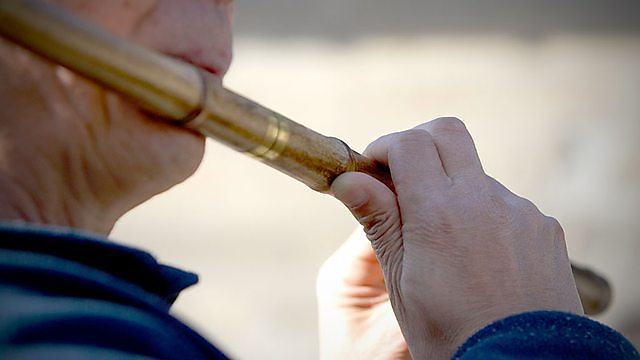 The story of musician and cook Guo Yeu.
'Guo Yue picks up a short piece of plain bamboo, punctured by a few holes. He holds it to his lips and, gently, breathes across it. Joyous, plaintive music fills his kitchen. On the table a long, dark-red pipe inscribed with elegant Chinese calligraphy and hung with silk tassels lies next to a battered, tarnished silver Western flute. Yue loves these instruments, but that bit of bamboo has a special place in his heart. The first flute he ever played, he tells me, was just like this. 
'Guo Yue is telling me the story of his life: he relives his childhood in a crowded musicians' compound in a Bejing backstreet or hutong; growing up amidst a constant cacophony of people practicing, singing, arguing – and cooking.  He recalls with relish the early morning cries of hawkers selling vegetables, fish, honey. In the evening he can tell what his neighbours are going to eat - just by listening. Beside his flutes on the table is a chopping board and a cleaver. Yue, getting excited now, demonstrates the variety of sounds made by slicing up cucumbers, chopping cabbage and smashing bones.
'Guo Yue's story is one that only radio can properly tell: music, noises, silence and his voice - whispering, shouting, singing - all cohere, if appropriate weight is given to each, in a narrative of sound. But conventional documentaries, driven by the mission to explain, upset this fine balance. Between the Ears tends more towards expression, and, like Yue himself, to listening. 
'Later, listening to the recording, I hear connections and dislocations, sonic links and assonances. Listening to Yue's account of his mother being goaded then brutally beaten by Red Guards, I hear, too, the slicing of vegetables, the chopping of flesh, the crushing of bones.  So I arrange the sounds accordingly. The programme becomes a reflective work, a piece as composed as any of Yue's musical works or his delicious meals. Between the Ears has, for 20 years, been the space where this can happen, where a producer can listen, reflect and create.'
Robyn Ravlich - Founding producer of The Listening Room and its executive producer from 1995-2003. EP Music unit RN 2005-2010.
'Daily radio can be a faithful companion and a valued informant making sense of the world but often goes in one ear and out the other.  Rarely does radio achieve the potency of the medium envisaged by the noted cinema theorist Rudolph Arnheim in his book Radio which was published in 1930. British poet, academic and broadcaster Sean Street has continued to champion such an approach in his recent book The Poetry of Radio. Radio is very much the art of possibilities that can draw on the companion fields of cinema and music to fashion worlds real and imagined, and that is very much the case with Between The Ears.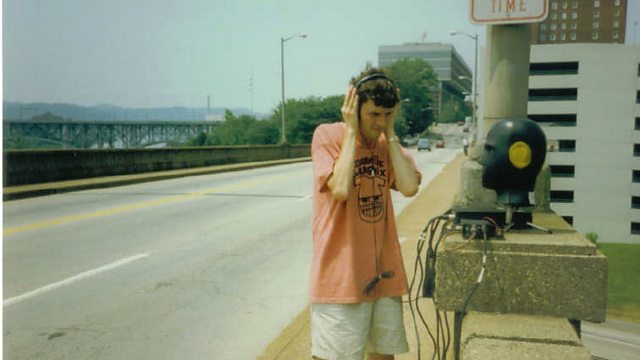 Referencing Knoxville - Summer of 1995
'I'm writing this in Kyoto where the traffic lights chirrup and temple floors have nightingale floors which squeak to warn of intruders; my sonic imagination is stirred along with the visual. I'm away from my office and my files that would allow me to detail my rich connections with
Between The Ears
, but I recall our association began through the Prix Italia where its programmes had been making waves and we sought audition copies to be sent to the ABC in Sydney. Alan Hall's
Knoxville
programme was a standout with languid location recordings in Tennessee plus literary and musical elements along with local voices all woven together in an evocation of past and present and the spirit of place informing creativity. Unforgettable! And then there was
Beethoven's Fifth
, a compositional tour de force of great wit and editing skill. And
Monument
. All made their way into our
Listening Room
airwaves as there were such synergies in our approach to exploring the radio medium. I visited Alan Hall at the BBC in 1997 when he was one of the BTE producers, and welcomed other visiting producer colleagues to our Sydney office when they were collecting interviews with local radiophonic artist and composer Robert Lolini and performance poet Amanda Stewart.
'"Between the ears" lie reason and imagination. Surpassing The Listening Room's 16 years, Between The Ears has reached it's 20th anniversary. Congratulations on achieving this landmark anniversary so stylishly, and may there be many more!'

Ian Gardiner is a composer for music, film and TV. His work on Between The Ears: Monument (London: 1935-1993) won a Prix Italia and Sony Award in 1994.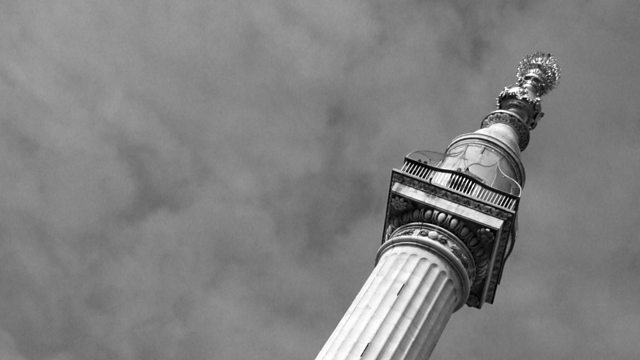 Monument - the first Between the Ears.
'
Between the Ears
celebrates the very rare and special medium of radio art. Not radio drama, not documentary feature, not sonic art, it requires the material of broadcasting itself - the sounds, voices, musicians emerging out of the darkness of the ether into your home. My piece,
Monument
, the very first
Between the Ears
20 years ago, was moulded out of the very stuff of radio - BBC announcers, vox pops, vintage sound effects - and it only really has the right resonance when broadcast.'
Caroline Devine is a sound artist who sent Between the Ears into orbit in a celebration of amateur radio and space exploration in Space Ham (2013).
'For Space Ham, I combined the voices and recordings of amateurs with my original compositions that comprised among other sounds, naturally occurring radio signals in the VLF range caused by space weather and tones derived from data on solar oscillations. I have always considered Between the Ears to be essential listening. When producer, Rose de Larrabeiti approached me to work on this, in spite of my excitement, I found myself wryly considering - which radio slot would I possibly dream of making, once I had made a Between the Ears?' 
You can listen to some of the programmes listed in this blog, and other vintage editions of Between the Ears, by following this link.