You search fruitlessly for weeks for athletes from across the Pacific, and then eventually, like buses on a rainy day, a whole bunch of weightlifters come along at once.
And then three of them proceed to sing into a computer for you.
Allow me to explain...
The BBC's Glasgow operation is based in a large glass building beside the river Clyde, the site of former docks called Pacific Quay.
Unfortunately the weather here never even remotely matches the area's exotic sounding name.
It's not tropical, there's not a coconut tree in sight, and the Clyde remains a stubborn muddy brown colour, rather than the turquoise of Micronesian waters.
But despite this cruel disconnect, I was charged with bringing you the Pacific, in the form of Commonwealth athletes and their music, from island nations I'd mostly never even heard of, let alone have any idea where they were.
So using the internet I set about masking my complete and utter ignorance, and slowly but surely Vanuatu, Nauru, Tuvalu, and Kiribati started becoming real places in my mind. Most of them are somewhere north east of the big island down there, the one that even I knew, Australia. But "somewhere north east" could be several thousand miles away from Australia's coast, and in terms of size relative to the Pacific these island nations literally are drops in the Ocean.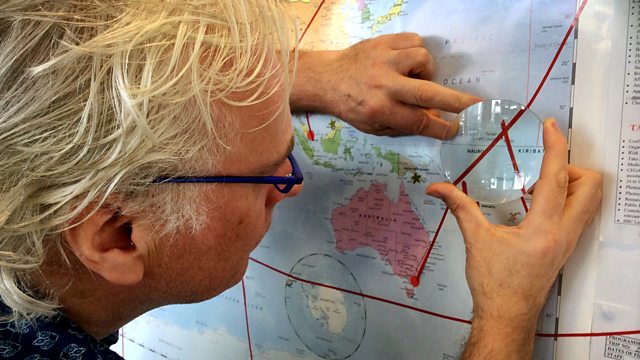 Finding the various islands on the map was only half the battle though.
Working out who to speak to and then getting hold of them, and then establishing how to record an interview on a lonely isle on the other side of the world was the other half.
The time in that part of the Pacific is eleven or twelve hours ahead of the UK, almost the direct opposite of here.
10am or 10pm turned out to be the sweet spot for phoning, although you never quite get used to speaking to someone who's about to go to bed when you have just got up and vice versa.
For the rare few who actually checked their email or facebook accounts and then chose to answer that method worked well, and that's how I got hold of Anolyn Lulu, a former Olympic table tennis player for Vanuatu, a place once known as the New Hebrides.
The interview was meant to be with her young prodigy Yoshua Shing, who despite being in his early twenties has represented Vanuatu at Commonwealth Games since 2006.
But he didn't turn up.
So Anolyn stepped into the breach by Skype and the slightly temperamental satellite internet connection which links Vanuatu to the world, plus an improvised home studio on my breakfast table.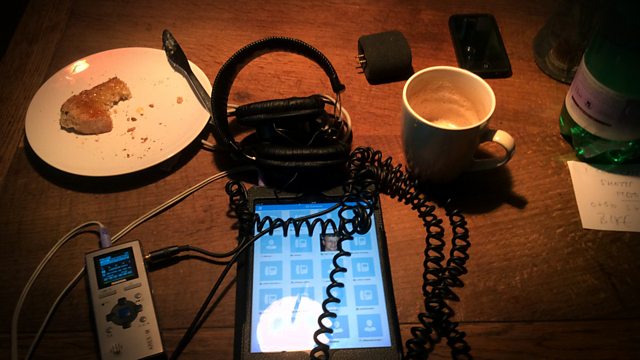 She was able to tell me of how she had tears in her eyes when she knew she'd qualified for the London Olympics and had been chosen to be Vanuatu's flag bearer at the opening ceremony.
Anolyn Lulu's Heritage Track
Anolyn also chose a great track, "Freedom" by Vanessa Quai which for Anolyn resonated with her young country gaining its independence in 1980.
Far flung doesn't even begin to describe the islands of Nauru, Tuvalu and Kiribati. With fewer than 10 thousand inhabitants Nauru is probably the least populous sovereign state in the world, if you discount the Vatican City and Monaco.
Tuvalu isn't far behind.
Relative to that Kiribati seems huge because it boasts one hundred thousand people. But despite their tiny populations these islands have an impressive track record in weightlifting.
Paul Coffa, the irrepressible Italian Australian who trains elite lifters for Oceania at a special training camp in New Caledonia has a theory. He reckons that Pacific islanders' body shape, with super strong shoulders and thighs from climbing coconut trees for thousands of generations makes them perfect material for the sport.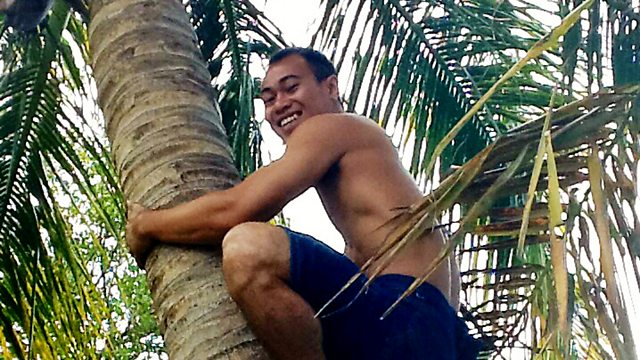 Tuvalu's Lapua Lapua climbs a coconut tree
Weightlifters can have a bit of an image problem.
When we as the general public see them it's in competition, so they are pumped up, highly focussed, and perhaps even rather threatening and aggressive looking.
On top of that there's that weightlifter body shape which they squeeze into those strange skin tight outfits they wear for lifting.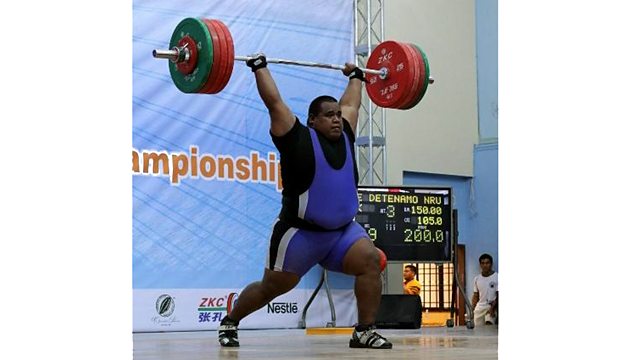 It's hard to imagine weightlifters any other way when you've only seen them grimacing.
You can't quite imagine them chilling out, let alone smiling.
So when superheavyweight Itte Detenamo from Nauru sat down at the computer for his interview I was feeling a bit intimidated.
His huge face filled the screen, but despite his size and his name which sounds like a type of explosive, the man turned out to be the original gentle giant.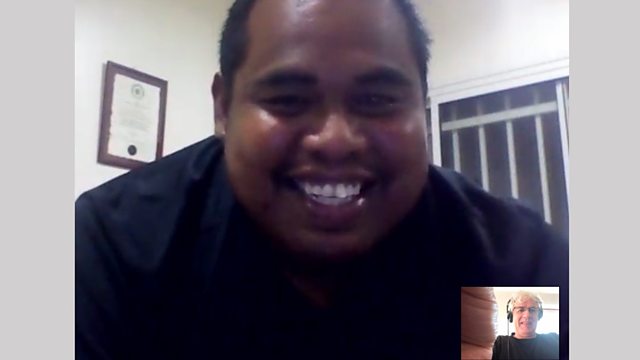 And so were the other lifters.
They were all big pussy cats, to a man and a woman.
During my interview with with Lapua Lapua he got out his guitar and sang his favourite song about Funafuti, the capital of Tuvalu.
Before I knew it, egged on by coach Paul Coffa, Lapua was joined by David Katoata from Kiribati, and female lifter Dika Toua from Papua New Guinea.
In an instant an international singing weightlifting trio was formed, and they proceeded to sing down the line.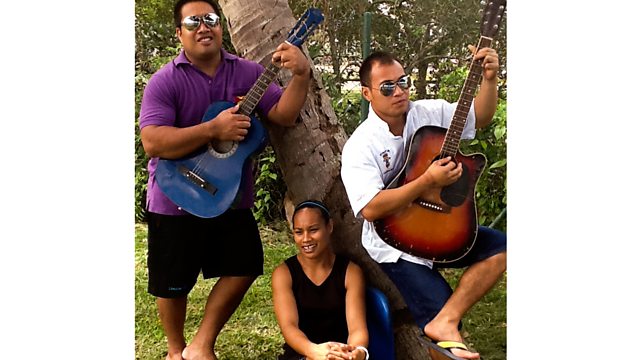 OCEANIA WEIGHLIFTING TRIO: David, Lapua and Dika
As I sat there at my breakfast table, laughing with delight, I realised that by sheer luck I had done it...
A trio of olympic standard weightlifters were singing just for me, and in turn you dear listener and cybernaut.
And if you listened very hard, you could just about hear the Pacific Ocean lapping around the BBC HQ at Pacific Quay.
David Allison