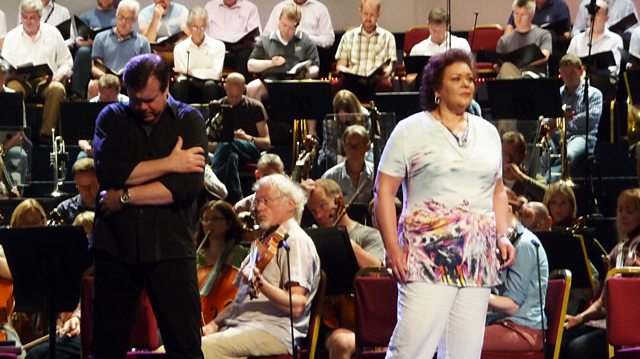 Rehearsing Tristan und Isolde
BBC Symphony Orchestra general manager Paul Hughes reports from the rehearsals for Saturday night's Prom performance of Wagner's Tristan und Isolde
I'm sitting in a fairly empty, cool Royal Albert Hall for the first of two general rehearsals for Saturday's Prom performance of Wagner's magnificent Tristan und Isolde. Conductor Semyon Bychkov is on stage with production colleagues testing out the offstage positions for the brass in Act 1 and Brangäne in Act 2. We're used to this and the orchestra sit patiently waiting for the full rehearsal to being while the decision is made finally to place them in the hall but behind the main platform. I guess you'd call this offstage-ish…  Preparing an opera of this scale was always going to be challenging and we have had to take the change of two cast members in our stride, but how fortunate we have been to secure the services of Robert Dean Smith as Tristan and Mihoko Fujimaya as Brangäne. Two highly experienced and delightful performers who have fitted into the team wonderfully and seem unfazed by the radio mics and TV cameras recording them.
The rehearsal is now underway, our colleagues from BBC FOUR are rehearsing the camera shots for the TV broadcast and the exquisitely moving prelude starts to fill every part of the hall. This is my 15th consecutive Proms season and I love this time particularly, when the final rehearsal is taking place, colleagues are scattered around the hall, moving to get a different view, a different sound, always surprised when the smallest sound carries to the gallery. The chorus consists of men from the BBC Singers and BBC Symphony Chorus and they are magnificent – so good in fact, that Semyon is sending them home at the break which duly arrives: Act 1 has completed and we're waiting to start Act 2. Suddenly the stage is invaded by a team of flamenco dancers and their crew trying something out for their Proms later tonight and I am reminded just how much of a 'production line' the Proms is – an astonishing feat of planning and logistics that relies on the consummate team-work that my colleagues display every day.
Semyon looks happy; the principals have been singing in a barely-audible whisper up to now: Violeta Urmana, our Isolde, singing mostly an octave lower than the part is written and demonstrating a remarkable mezzo register, the match of the creaminess of her upper voice. Known as 'marking' and designed to save wear and tear on the voice, this is still frustrating for our radio colleagues who are desperate to balance the sound and hear what it will really sound like. Ann McKay, our Chief Producer, reassures me that the soloists will sing out enough after the break for her to capture a good balance. And TV seem generally cool.
Part two of the rehearsal starts up and there is a discussion as to where the horn section should sit in order to guarantee perfect ensemble with their woodwind colleagues. They move directly behind the clarinets and bassoons and if not everyone is happy, they accept the move and we continue. I had forgotten just how amazing the love duet is in Act 2, even with two protagonists still mostly whispering their impassioned endearments. Brangäne delivers her haunting solo from a position just behind the bust of Sir Henry Wood which, until the spotlight finds her, calls to mind an operatic ventriloquist. It's a tricky passage and she delivers it flawlessly. And then it's time to stop. The stage is cleared with super speedy efficiency whilst our colleagues from the BBC Philharmonic are anxious to get set up and figure out the logistics of their flamenco number. That's the job of the Proms, it's magic I think – from Wagner to Flamenco and all part of a day's work. I love it!
 

BBC Proms