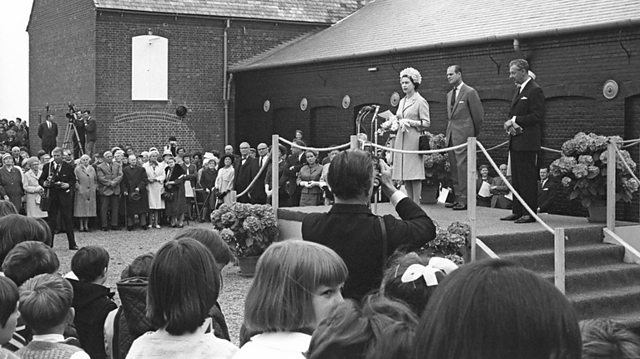 The Queen and the Duke of Edinburgh with Britten, opening Snape Maltings Concert Hall.
How to celebrate Benjamin Britten, the greatest English composer of the twentieth century?
The legacy of Britten's life and music is an embarrassment of riches. Even in an 'ordinary' year there's no shortage of Britten performances. And from the manuscripts of childhood compositions, right down to every teenage diary, telephone and garage bill, receipt for garden seeds and invoice for carpets, every part of his life has been catalogued, endlessly pored over and documented.  A few clicks round the Britten-Pears Foundation's incredible online archive will give you an idea of the scale of the mountain.
So, an 'Every Note He Wrote' fest wasn't going to fit the bill. As well as many centenary concerts, we've already had a Britten song season and will have broadcast every one of his operas by the end of the year, along with a downloadable audio guide for each.
One thing was a given. We wanted to be in Suffolk, the county whose landscape, coast and communities were so vital to Britten. And in Suffolk we will be, resident in a place that couldn't be more redolent of Britten. Set among the reed beds beside the River Alde, looking out towards the North Sea, Snape Maltings was where Britten built the concert hall that became – and still is – the centre of his Aldeburgh Festival. His legacy lives on at Snape through the Britten–Pears Young Artist Programme and the organisation which now runs the Festival (and much more besides), Aldeburgh Music.
In partnership with Aldeburgh Music, we've designed a short, concentrated 'total immersion' in Britten which begins on the actual day of Britten's 100th birthday with a special edition of In Tune, and ends on Sunday evening.
The weekend's music-making (including seven new commissions) is a typically Brittenesque mix, with world class professionals rubbing shoulders with Suffolk children's choirs and local amateur groups, often all at once. Even the audience has a part in St Nicolas and Noye's Fludde.
The BBC Symphony Orchestra plays under two conductors with close Britten associations - Oliver Knussen and Steuart Bedford - and also gives a Family Concert for children of all ages. The BBC Singers, whose link with Britten goes to the very beginning of his professional career, are live on Sunday afternoon from Southwold Church.
You can hear Britten's three Church Parables (from Orford Church, the place for which they were written) and three String Quartets in specially recorded and live performances.
To help get a rounded picture of the man, we will have two downloadable mini-series:  'Britten at Home' and 'Britten's Suffolk' -  they feature in 'Britten Plus', programmes which will reveal another aspect of the composer's story through archive recordings of his exceptional piano playing and conducting, from Bach to Shostakovich, and through interviews with those he knew and worked with.
We'll be broadcasting live from the restaurant behind Snape Maltings Concert Hall overlooking those reed beds. Tune in –  or if you're in the area, come and join us!