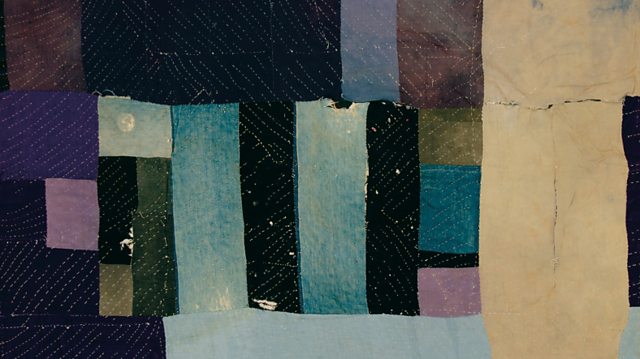 Martha Jane Pettway, Block and strip work-clothes quilt, 1940s [detail]. © Stephen Pitkin
There's a road out of Selma, Alabama, that follows the Alabama River as it meanders through a flat landscape of cotton fields to embrace the small community of Gee's Bend. There's not much there except for houses and people, but they are responsible for some spectacular art. Going back to the days of slavery, the women of Gee's Bend have made extraordinary quilts: bold, colourful creations pieced together from old work clothes and anything else to hand. And as they quilt, they sing hymns and spirituals that make the hair on the back of your neck stand on end. Since they came into the public consciousness, these quilts and songs – but most of all the women themselves – have inspired a great deal of art. There are books, plays, and compositions based on Gee's Bend, as well as an entire album by drummer/ composer Jaimeo Brown, whose recent UK debut at the London Jazz Festival is this week's concert.
Listening to him talk about Gee's Bend to Kevin Le Gendre, it's clear Jaimeo has taken its music to heart, something you can also hear throughout the Transcendence album. Loops and samples of Gee's Bend spirituals are woven into freewheeling compositions that build to a mesmerising intensity, Jaimeo's hip-hop inflected drumming holding together J D Allen's fluid sax and Chris Sholar's electric blues guitar. But the collage aesthetic of the quilts also permeates the music, with Jaimeo managing to knit in Hindustani devotional song and an infant singing (Baby Miesh).
And there's one final element to this week's patchwork. Thanks to Matt Arnett, who recorded the How We Got Over album with the quilters of Gee's Bend in 2002, we have an exclusive performance by three Gee's Bend women – Mary Lee Bendolph, China Pettway and Revil Mosley. Their powerful singing closes the programme.
To hear them, join me on Monday 25 November at 11pm, or listen online for seven days after the broadcast.
Jez
If you have comments about the show, or requests for music you'd like to hear, do get in touch at jazzon3@bbc.co.uk or on Twitter @BBCJazzon3