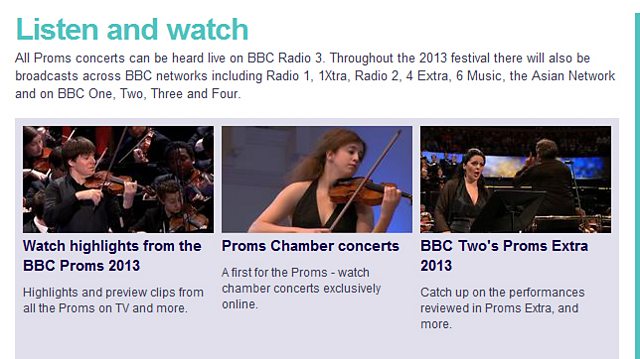 Proms website - Listen and Watch
Did you know that, as well as listening to highlights from this year's Proms, you can watch previews and complete works?
We've assembled these highlights in Collections which you can access direct from the BBC Proms website. Of course, broadcasts on TV and radio are available for seven days via the BBC iPlayer, but for the duration of the Proms and for a limited time after the season is over, Collections offer the opportunity for you to go straight to the music which interests you most, for extended periods.
Watch highlights from the BBC Proms 2013
Watch highlights from the Doctor Who Proms
We'd like to invite your feedback on this way of opening up the music in the Proms - we're especially interested in how you find your way to the audio and video we present from Proms concerts.
Please send us your comments by replying to this blog post - we'll read everything but I'm afraid we can't promise to reply to any questions – but will try our best.
Here are some questions to get you thinking:
1.        Before reading this blog post did you know about any of the collections of audio and video (eg 'New Music at the Proms', Britten at the Proms' , 'Wagner at the Proms' etc)
2.        Have you listened to or watched any of the online  audio or video from the Proms this season?
If you answered ' yes' to question 2
3.        Do you normally come to the BBC site looking for something in particular from the Proms – an individual concert or artist perhaps?
4.        How useful are the Collections to you?
5.        What other ways do you use to find online audio and video from the Proms?
If you can please do let us know whether you use the desktop site or mobile version or both.
Thank you!