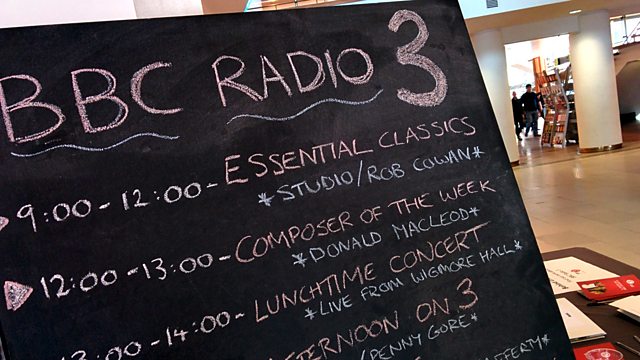 BBC Radio 3 at Southbank Centre
From Alan Hall of Falling Tree Productions ...
It's such an effortless medium, radio.  Wherever you are – in the kitchen, driving the car, out and about on your phone – you simply switch on and listen.  There's virtually nothing required of you.  No necessity to be still with fixed gaze – in fact, your attention is more than likely divided between the sounds being broadcast and whatever is occupying your immediate surroundings.  It's such an easy companion.
Except … it's not really like that.  Just as a swan glides gracefully across a lake, the furious activity of her webbed feet hidden beneath the water, so Radio 3 elegantly rides the radiowaves.  And at Southbank Centre for the next couple of weeks, visitors get a chance to examine the workings of the broadcast machine, to look under the surface at what it takes to keep Petroc Trelawny or Sara Mohr-Pietsch 'live on air'!  The cabling and kit and running orders and, above all, the clocks.  Clocks and the unforgiving, fastidiousness of time rule the live broadcast.  Effortless it ain't.
During Radio 3's residency at Southbank Centre, my colleague Hana Walker-Brown and I will be attempting to capture something of the experience of taking an entire BBC radio station out into the world.  We'll offer our impressions in a soundscape to be broadcast on Radio 3 and also heard in situ at Southbank Centre.  We started yesterday, with fly-on the-wall glimpses of Private Passions, the Radio 3 Academy trainees and the rehearsal for the San Francisco Symphony's amazing Mahler 3.  But we'd like help from you, the listeners and visitors, to build a sound-picture of R3's residency.
Send us your short audio clips from Southbank Centre (perhaps recorded on your phone) that capture particular sounds, descriptions of what you see/hear, interactions between visitors or anything that conveys a different perspective from that heard during the broadcasts: email an mp3 lasting no more than 30 seconds to soundscape@bbc.co.uk.
Let us know if there's a particular moment that you enjoy from the BBC Radio 3 Live at Southbank Centre broadcasts – especially anything that takes you by surprise or confounds your expectation of Radio 3.
BBC Radio 3 at Southbank Centre